I had a run in with The Bitch in the Corner. (Thanks to Elizabeth Potts Weinstein for naming her so perfectly.) And man, did she ever lay some beats on me. Bad. But, let me back up a few steps.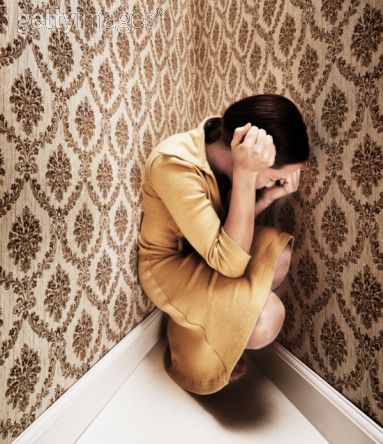 Hubby, Baby Girl, The Boy and I had just gotten back from Florida on Saturday. We drove straight. Yup. 24 hours in the van with minimal stops for peeing and refueling – both us and the van. My brother and his wife were also along for the journey, so we had four drivers. Not so bad, really.
Still exhausting, though. For everyone.
And then the time change happened.
More exhaustion.
A few days later the kids and I went to see Disney on Ice: Let's Celebrate. The show was fantastic and full of Disney magic, but we were still needing some rest and relaxation. And the show was in Hamilton, so it required driving. And parking. And crowds.
I also let them have candy. The Boy doesn't necessarily behave all that well after too much candy.
I picked up the mail on the way home. (Ya. We have one of those annoying mailboxes down the street. Hate that.)
There was a package sitting there from Eric Alper. It was Furry Vengeance, which is actually kind of a cute, funny movie. The kids loved it in the theatre, especially the animal parts.
They were very excited to have a new DVD, at least Baby Girl was. The Boy was just bouncy and on a sugar rush.
After a bit I suggested we put in a DVD. How about the new one?! "Yay!!" says Baby Girl. "NO! Toopy!" say The Boy. Great. Here we go…
I told The Boy we'd watch Furry Vengeance since it was new and he'd watch A LOT of Toopy recently… And *maybe* we could watch Toopy later. He was having none of the "no" part of the conversation.
I opened the DVD player to put in the movie and he almost broke the deck. I told him he needed to go to his room to chill out for a moment. He didn't move.
I closed the glass doors on the TV stand and locked them (with a "child-proof" lock that no longer is.. I'm not sure why we have it on there anymore..).  He opened them right back up. I pulled his arm away and told him again he needed to go to his room.
I needed leverage… This was escalating… I was losing it, too. I'm not happy with how I handled the situation.
I grabbed the nearest toy that means anything to him. I knew as soon as I had, it was a mistake. I had his favourite fire truck. The little one we got from KW Surplus that makes a siren noise when you push the button on top. (He didn't even know about the noises when we first got it and he loved it then… What a wonderful three days those were before he discovered the button…)
I told him again he needed to go to his room to chill out. No movement. So… I started the infamous "One" and moved to the trash can. "This is going in the garbage unless you go to your room now."
Still not going to his room. "Two!" Nada. "You can save your firetruck if you go to your room now."
Nope. We were locked in a power struggle and I hated it. I'd brought us there and I hated every second of it, but I couldn't back down now.
"Three." And in went the firetruck that both Baby Girl and The Boy loved. It broke my heart. The look on The Boy's face crushed me.
Guess who went to their bedroom?
Me.
I lost it.
It came.
The ugly cry.
You know the one. The full body convulsions. Sobbing. Can't catch your breath. Face buried in the pillow. Wailing. Tears. Snot. Drool. Every single piece of your being has come together to release what has built up. Except one piece.
The Bitch.
She's always sitting there. In the corner. In the shadows. She's always aware. She knows when to emerge. And she came at me full force. I could even SEE her standing over me.
You are SUCH a BAD mother!
How could you DO that to your children!?
You've scarred them.
You've scared them.
You are the adult here! What hell?!
You are not fit to be raising these beautiful human beings!
Then the hyperventilating. I could barely catch my breath. But she kept going.
And now look at you! Sit up! Look at you! Look at yourself!
Not only did you COMPLETELY lose control of the situation downstairs, now look what you're doing!
You are up here in your bedroom – supposedly the adult in the house – and you're weeping uncontrollably. And loudly! They can hear you!!
What do you think THIS is doing to them?! Huh!?!
You are nothing.
You are worse than nothing. If you were nothing, you wouldn't be hurting them this way.
Then my sweet, sweet daughter opened my door. Silently walked over to me. Placed a Littlest Pet Shop postcard between my drippy face and the pillow.Then she silently walked back out and closed the door again.
It made me feel better. But it gave The Bitch more ammo.
Your SIX and THREE year olds are down there listening to their MOTHER lose it, you freak. They shouldn't be the ones taking care of you!
The Bitch doesn't tire. She feeds. She's always feeding. And right now she was feasting. Gorging herself on my doubts. My insecurities. Not only about my role as a mom, but my fear of what's going to happen in a month when the money runs out. My fear about not making my business work. My fear of letting people down. My fear of letting my family down. My kids…
And we were back to my complete lack of ability to parent.
I wasn't able to completely shut her up, but I needed to get back to my kids. I needed to pull it together. I needed to show them it's ok to cry. I needed to show them they didn't make me cry. It was not their fault. Oh, how I hope they don't think it was their fault.
It's hard to keep The Bitch at bay. Some days it seems almost impossible. But, I know I'm better than that. I think.