I first got a taste of Come From Away at the Mirvish season preview and I was hooked. The number they performed that day – the opening number – had me craving more. When I got the invitation to opening night, of course I responded with a resounding YES! right away. My partner and I drove to Toronto in anticipation of a great night of theatre at the newly restored Royal Alexandra Theatre.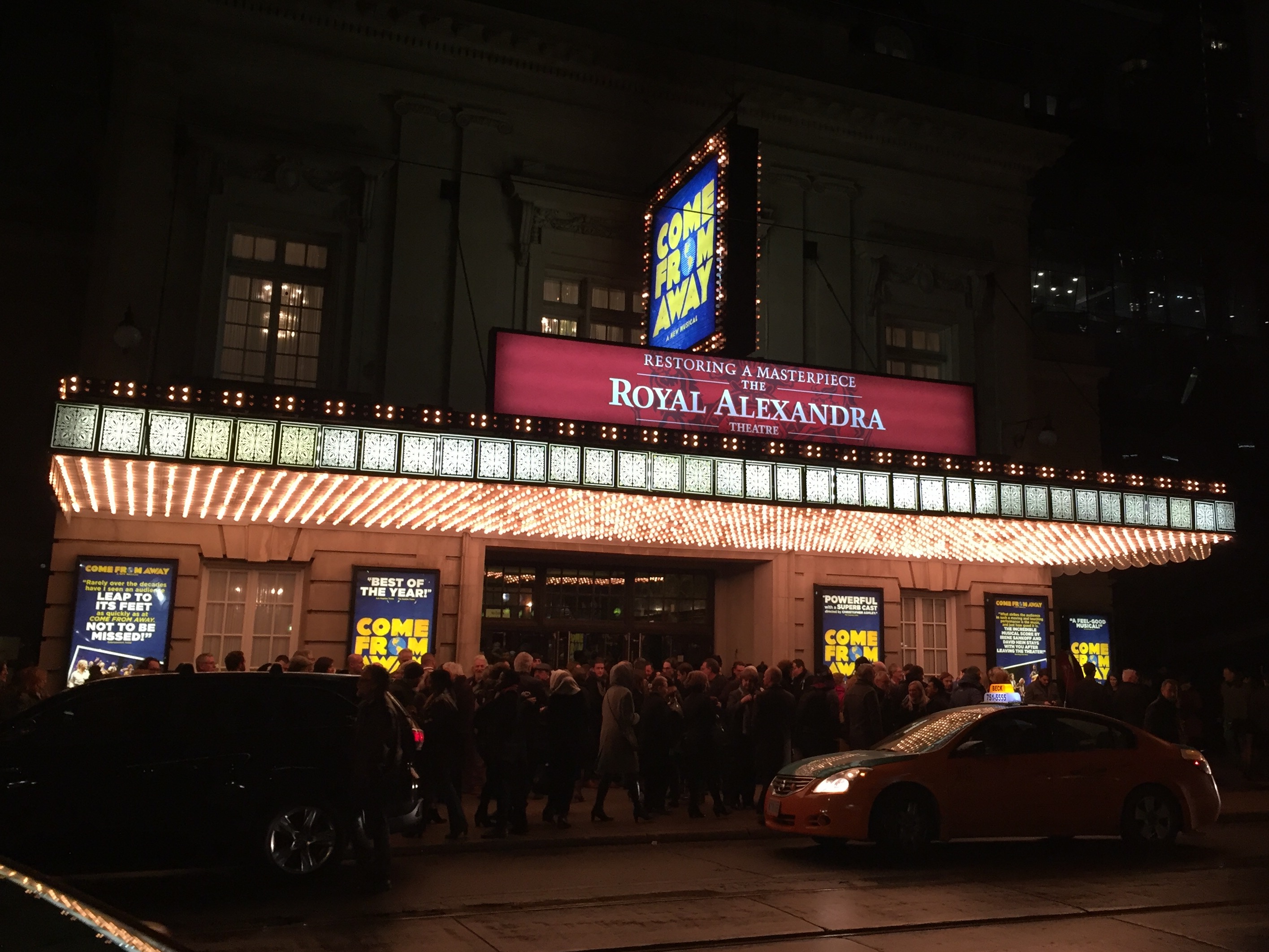 While I expected it would be an emotional story, what I didn't expect was to be tossed around so intensely throughout the entire show. It was 100 minutes of ups and downs, sometimes at whiplash speeds. I'm sure that intense up and down of emotions is by design. One moment I was literally crying – I'm talking tears-down-my-face kind of crying – and then right into the kind of laughing that comes deep from the belly. That happened over and over. The only thing that varied was whether I'd be laughing first then crying, or crying then laughing. I imagine the writers of the show were mirroring the intense emotion of that time, back in mid-September, 2001. The townsfolk and 'those from away' must have been experiencing that throughout their time in Gander – laughing and enjoying the camaraderie, and then the weight of the reality of what had happened – and was happening – crashing back in.
There were 38 planes grounded in Gander, 6,600 additional people in a town of only about 9,000 folk. The writers of Come From Away spent time with townsfolk and plane people, and have woven their stories into an absolutely amazing musical. It's not only the overall story of what the townsfolk of Gander did – which in and of itself is an amazing, heartwarming story – it's also the smaller, individual stories that put this over the top.
The simple set is perfect for this show. I totally nerd out over sets and I love this one. The slatted wooden backdrop, the trees that line the stage, and the hodgepodge of mismatched chairs and tables completely represents this show. The chairs and tables become whatever the show needs – an airplane, a bus, the local pub or Tim Hortons – and it's clear what they're trying to express. Kudos to the set designers, too. And lighting, and costumes, and everything that has gone into making this show the experience it is.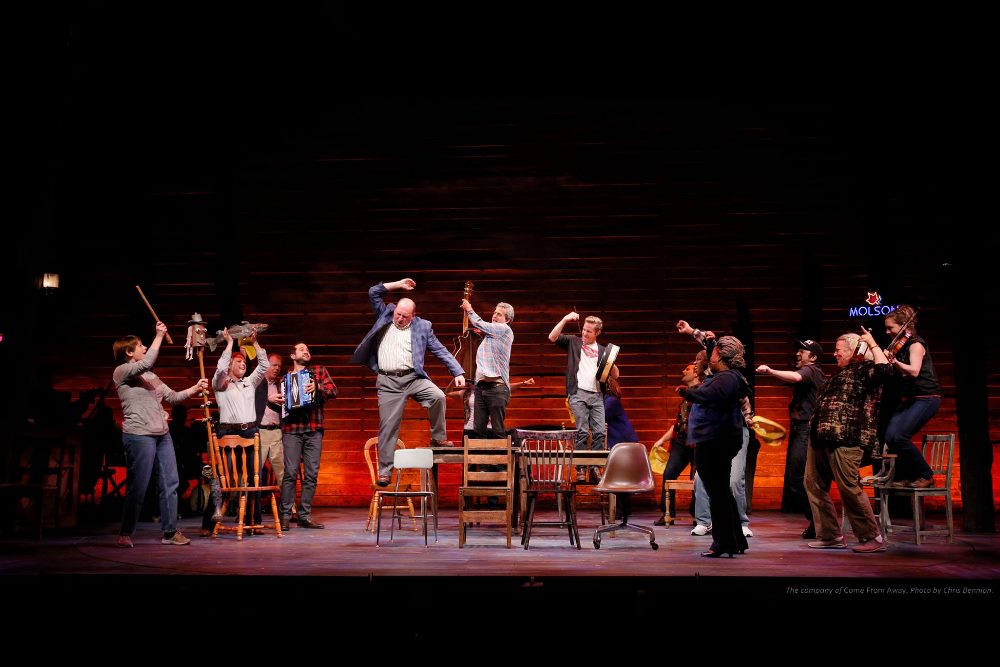 This is your chance to see this future-Tony-Award-winning show before it hits Broadway. My prediction is New York City is going to eat this show up and embrace it. If I experienced the emotions I did, being someone who observed 9/11 from Toronto, Ontario, I can only imagine how close to the heart this will hit those in NYC and those even closer to the horrific events of that day and the days that followed. As the mayor of Gander said after the curtain call on opening night,
There's always an opportunity to get the good story out. I think the world we live in today needs the good story.
As if we weren't all emotional enough, on this special opening night, after the bows and a final song of joy, the cast was joined by those real individuals they had just played onstage. They embraced. There were tears and applause from those on the stage and those of us in the audience. It was captured on film so you can experience it, too. You can see this show is truly a labour of love and the people involved have put their heart and soul into it.
We all need good stories. This show is truly nourishment for the soul. If there is any way you can see this show, do it. I hope to catch it again before it leaves Toronto on January 8. I'm going to try my best to follow it to Broadway, and also experience it with a New York audience. That's how good this is.