Jason Robert Brown's The Last Five Years is one of my favourite musicals. It breaks your heart while making it sing at the same time. It is a unique show that tells the tale of a young couple over the last five years, each from his/her own perspective. The characters move backward and forward through time simutaneously. Cathy starts from the end of their relationship and works her was backward; and Jamie starts at the beginning and works his way to the end of their relationship. The two alternate songs throughout the show and work their way through the five years, meeting in time in the middle of the production.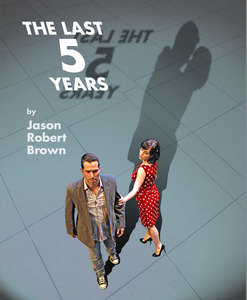 On our drive to New York last month, The Last Five Years was one of the musicals we listened to – a couple times – and it got me wanting to see the show on stage again. When I got home, I googled the show to see if there were any productions nearby and I found one coming up at the Rose Theatre in Brampton. Perfect! I swiftly bought tickets for mid-July.
Last night we traveled from Kitchener to Brampton to see the show. I wasn't sure what to expect, as I'd never been to the Rose Theatre. The venue was easy to get to. The parking was underground and FREE! The Last Five Years was in the Studio 2 space and it is a quaint and intimate setting for this initimate show. We each got a glass of red wine and took our seats.
I looked around at the minimal set – one chair, two cubes, draped sheer white fabric. It had a nice, light feeling to it.
The lighting was creative – and helped guide those who may not know how the story flows. The lights even glowed under the stage – and mirrored the emotions of the two characters throughout the show.
Then I opened the playbill. Danny Harvey has written one of the best Director's Notes I have ever read. It was poignant, touching, and actually made me mist up a little. Here is a sampling:
…What lingers is the very soul of a relationship – growing up, growing together and growing apart. Written both forwards and backwards, at once discovering foresight and hindsight. The Last 5 Years, more than anything, is about love – the most mysterious power in the universe… the one conclusion I could come to is that none of us can control it. It just exists…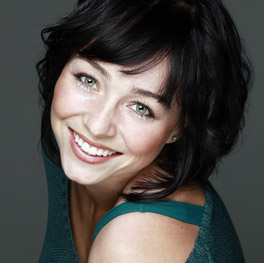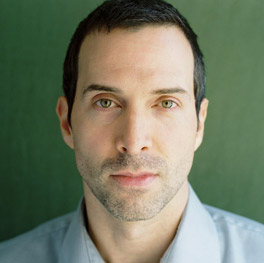 And I read the bios of the two (stunningly gorgeous) actors. Cathy is played by Marissa McIntyre. Marissa's bio includes Sophia from the Royal Alexandra Theatre's production of Mamma Mia. She plays Cathy impeccably – I even saw a tear fall to the floor. To be able to cry and sing at the same time… Amazing. I can't even cry and talk at the same time. Jay Davis takes on Jamie. His credits include a Dora nomination and win. Colour me impressed. And Jay embodies Jamie beautifully. They are both incredible talents. Their singing and acting simply sweep you away in this emotional musical. And the orchestra is fabulous from beginning to end.
It's interesting to watch a show where you know the ending as soon as Cathy begins, but you get to watch Jamie get to that point – and travel with him through time as he journeys. And you see where Jamie begins and you ride with Cathy as she finally culminates in a giddily happy beginning that Jamie started in.
The songs are simple, yet deep. Introspective, yet cute. And one of my favourite lines is in this musical, "I won't lose just because you can't win." Or lines that simply make you smile such as, "Have I mentioned today how lucky I am to be in love with you?"
I smiled. I laughed. I got misty. I sipped my wine. And I thoroughly enjoyed the ride. And you can't help but see yourself in at least part of this show. I enjoyed it so much I plan to go back again before the run ends. You have until July 28 to see this show. I highly, highly recommend it. Don't miss this gem.