Last month I packed my bags and headed to New York City for the #140conf12 / State of Now conference. I was honoured to be part of the speaker line up and amazing doesn't even begin to describe my experience in New York.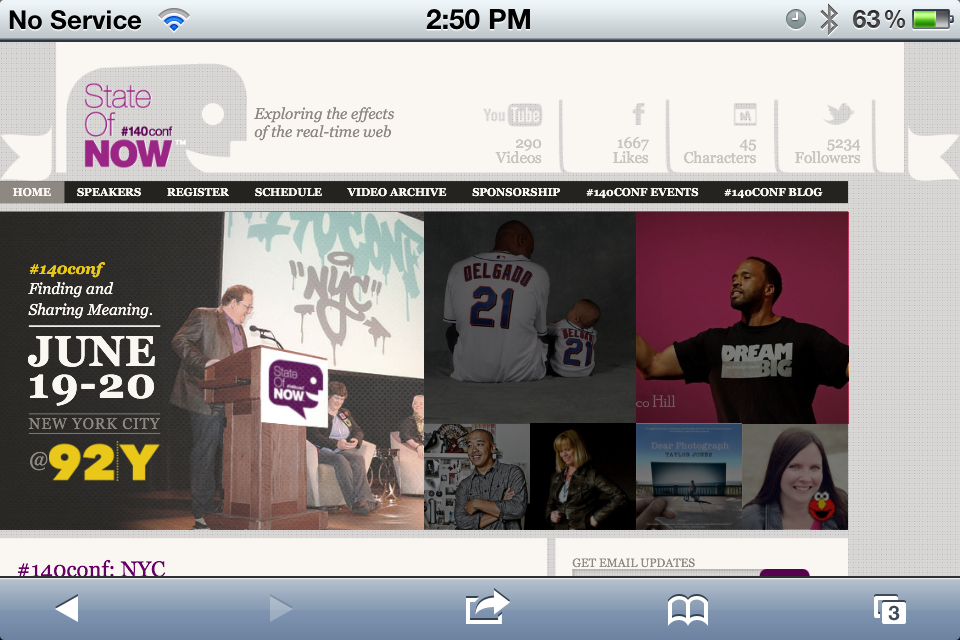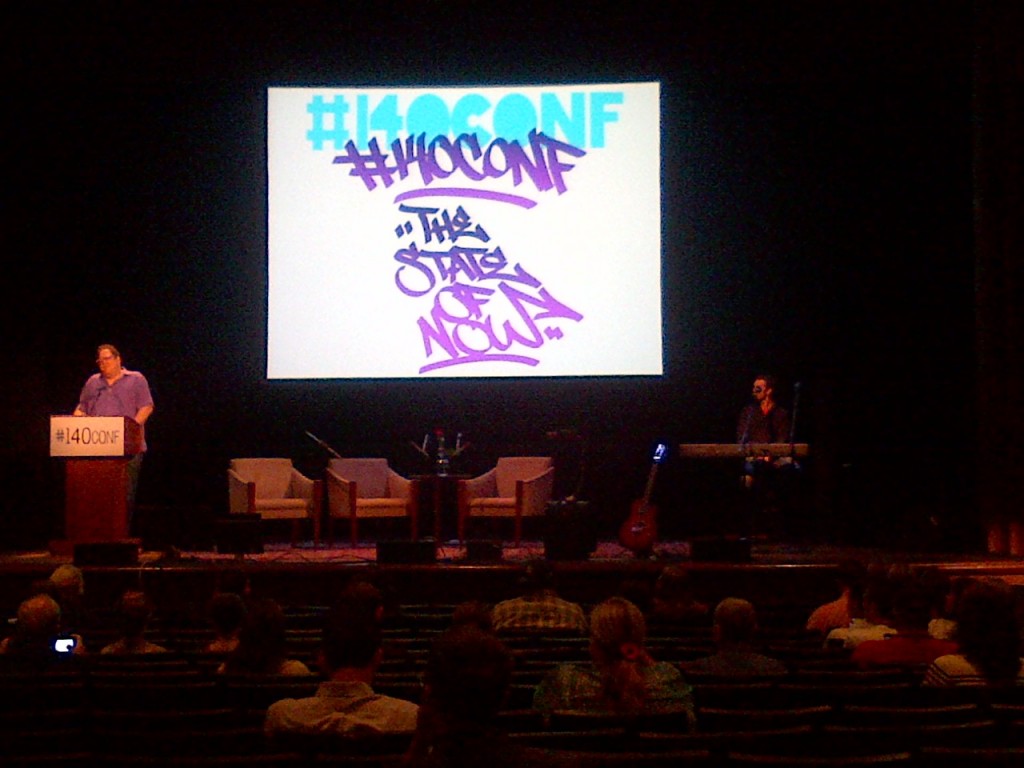 But this post is about the getting there – and getting back.
Toyota Canada was gracious enough to agree to be my travel sponsor and I was hooked up with a shiny 2012 Camry Hybrid XLE for the trip.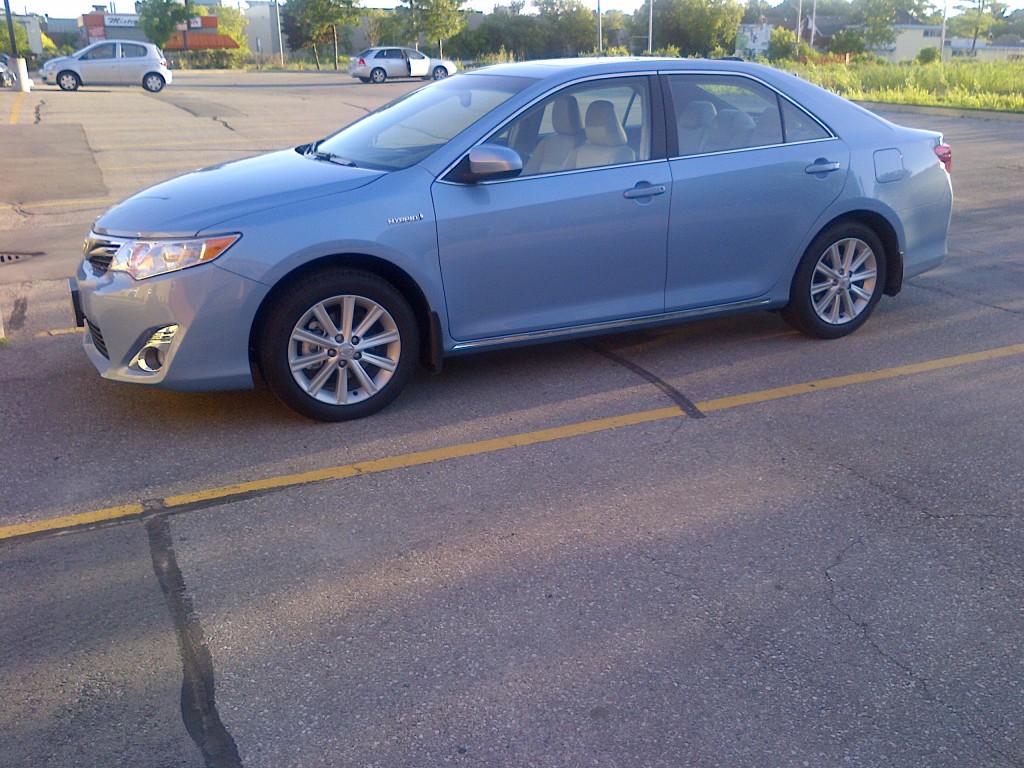 She was a pretty car. I liked her a lot. She was very good to us as we drove from Kitchener-Waterloo, Ontario to Long Island City, New York. We stayed just on the other side of the Queensboro Bridge at the Sheraton Four Points in Long Island City/Astoria. It was a great location since it was only two subway stops from Manhattan – quick and easy to the conference or Times Square. And there was a great greasy spoon right by the subway stop. Mmmmm. Bacon. Luckily the Camry is a fairly little car since the parking at the hotel was wee. And that's being generous!
The rear camera was very helpful getting out of the parking lot. I LOVE that camera. It engages when you're in reverse and has lines on the screen that help guide you as to where your sides are and how close your rear bumper is to whatever you're backing up toward. Pretty cool.
Of course, this Camry Hybrid is a hybrid car, so it runs on both the engine and the battery. And it alternates between the two as it deems necessary. I didn't question why. I assume the car knows best. It has a cool little display telling you what's going on.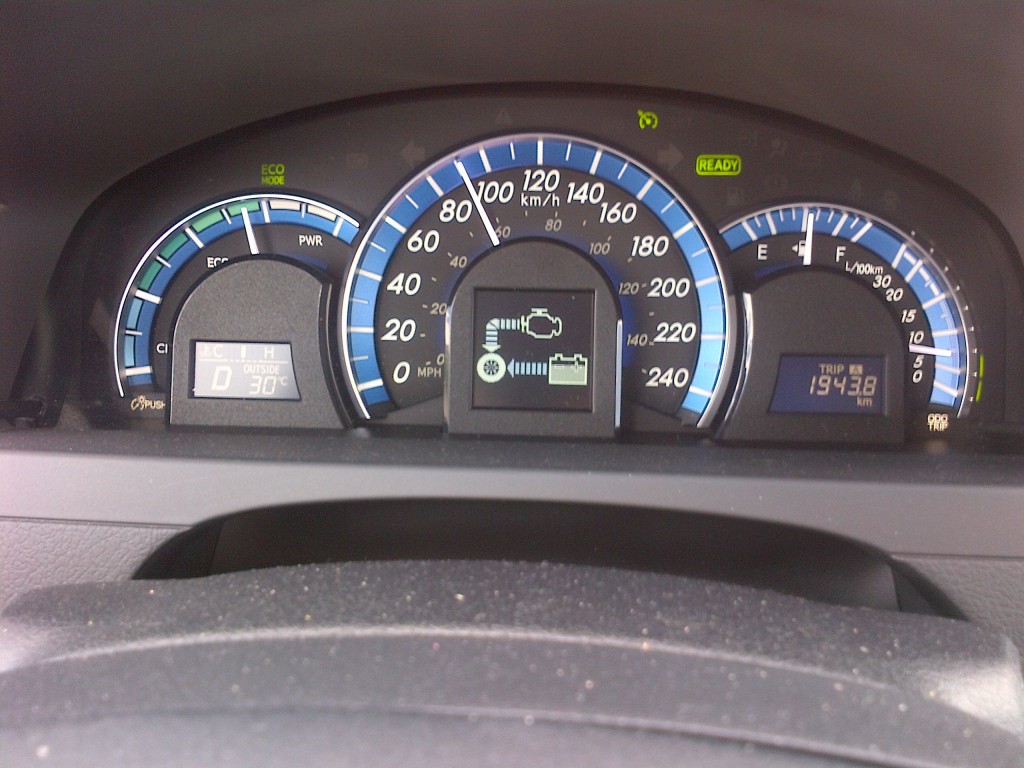 Another big thing I loved about this car was that I didn't idle. Awesome. When we were sitting in the line at the border crossing we weren't wasting gas and spewing crap into our planet's air. The car sat silently. Still on, but no engine running. As an aside, I have an uncanny knack for picking THE SLOWEST LINE at the border crossing. This decision should not be left up to me. It's a sucky superpower. And the border guard really threw me off when he asked "And who are you traveling with?" … Um… The guy in the car with me… ?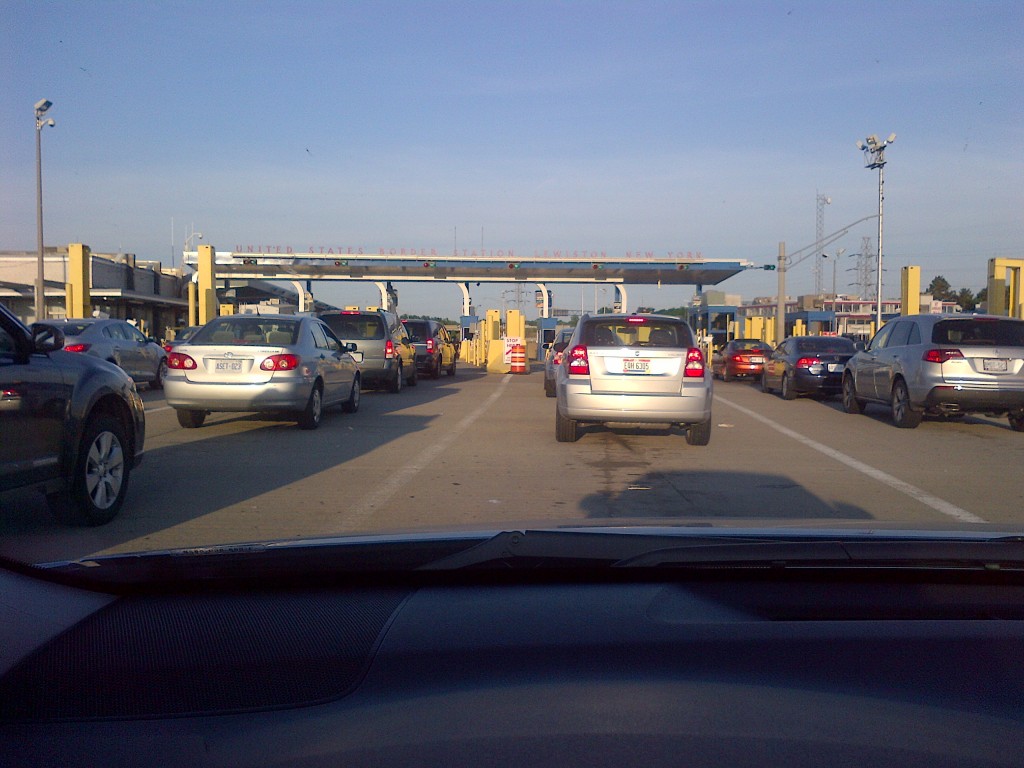 And we discovered another cool thing when it got dark. The rear view mirror automatically dims the reflection of the lights coming in from behind us. Very cool. As soon as a vehicle's lights would shine into the rear view mirror it would immediately change. (Yes. I'm easily amused. I was impressed. It's really about the little things, isn't it?)
Remember I mentioned the road trip was from KW? That's a nine-hour drive (according to Google maps). We took about 12 hours when all was said and done, taking into consideration traffic (an hour to just CAMBRIDGE?! Really?!!), the border crossing, stopping to shop and eat.. We left around 5:30pm on Friday night and got to the hotel around 5:20am on Saturday morning. As another aside, I am WAY better at navigating through Manhattan than my co-driver was. Just sayin'. And we were even using the GPS. (Which was also awesome. I love having the built-in GPS system, with the graphic that shows exactly what lane to be in and what the exit looks like.)
Something else we noticed/commented on was what seemed totally chaotic, but seemed to work better. The traffic flowing into the tunnel from Brooklyn (I think) into Manhattan went from cars coming from about 6 or 7 different streams into two lanes. No guides. No blinkers. Yet it flowed in more easily than anything I've ever seen. No one being "polite". Everyone on the same mission. Being assertive getting where we need to go.
The Camry was an incredibly comfortable car to drive and ride in. The seats were adjustable in a number of ways. And not once – remember I said twelve hours – did either of us need to stop because we felt like we needed to stretch or because we were uncomfortable. That's says a lot. It was a great car to drive. And it was a great car to recline and nap in – which is how we made it twelve hours straight – through the night – without stopping to sleep.
One thing I would change is the location of the USB port. It was a little too far in underneath the GPS/control screen and hard to get the USB stick in just right. I'd move it out more to be better accessible. The CD putter-inner part is cool, though. The main navigation screen flips up and out to reveal the slot. Kinda fun. 🙂
And this car is crazy good on gas. I wrote down the exact number of gallons/litres we put, but can't find my notebook… So, this will have to do. We drove 1951 km – from picking the car up at Toyota Canada in Scarborough. Driving to Kitchener. Driving around KW for one day. Leaving from Waterloo. Driving to Queens/Long Island City. Back to Waterloo. Around KW for one day. Then back to Scarborough.
We started with a full tank. Filled once on the way there when we got to about a quarter tank. Then once again on the way home when we reached about a quarter tank. And ended just over half full when the car was returned. We put in a total of $88 to drive to NY and back. (Plus take the half tank we left empty into consideration.) That's pretty awesome.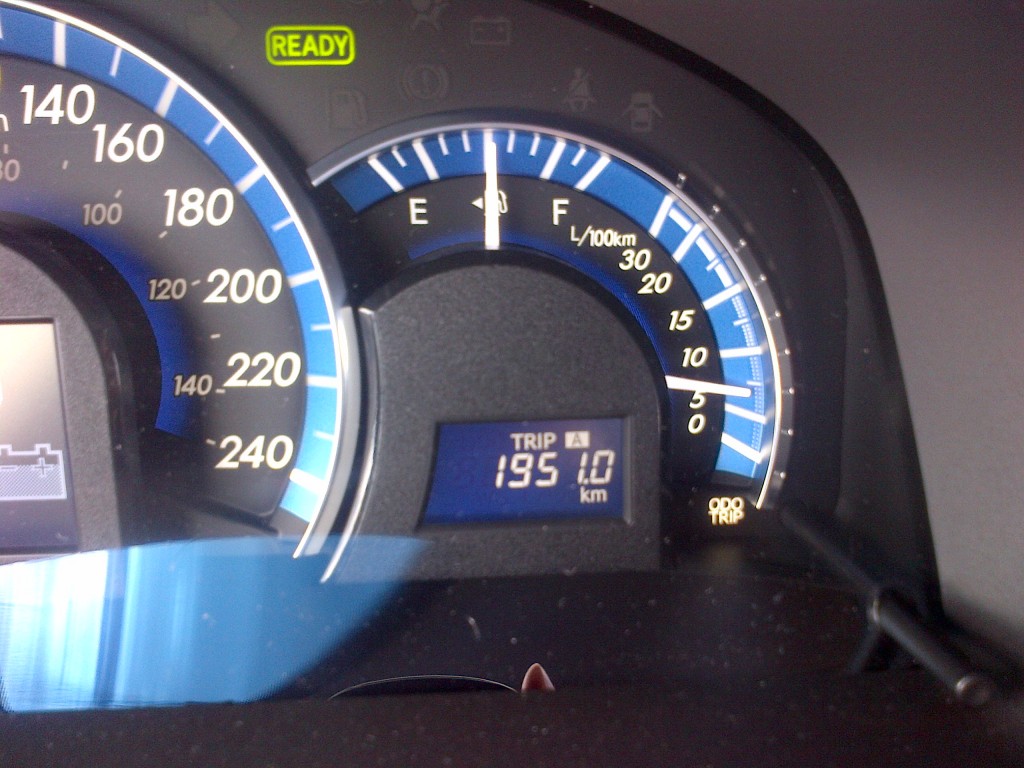 It was hard to give the Camry back! I wonder how far we could have gotten before Toyota caught up with us… Wonder if we would have made it to New Orleans…