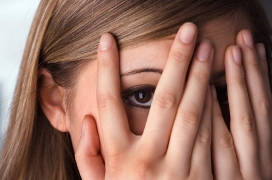 The Day 9 ( June 8 ) prompt in the #trust30 writing challenge was this:
"The other terror that scares us from self-trust is our consistency; a reverence for our past act or word, because the eyes of others have no other data for computing our orbit than our past acts and we are loath to disappoint them." – Ralph Waldo Emerson

Emerson says, "Always do what you are afraid to do." What is 'too scary' to write about? Try doing it now.
Here's my 'too scary':
I've been struggling with my 'too scary' for a while now. (I actually have a couple of 'too scaries' but I'll just focus on one for now.)
The reason I haven't written about this topic too much is that it's really not my story. It's someone else's. Actually, more than one "someone else". There are too many people this story would affect. My parents don't know about this blog (that I know of yet…) and this topic would affect them deeply. And I know once words are out there, they're out. The words I want to write would make my mom sad and my dad would likely react angrily to my writing about it, as we don't talk about this kind of thing – especially publicly.
So, my 'too scary' is kept quiet for fear of hurting those I love.
My 'too scary' is about my mom's diagnosis and my feelings about that and what it's done – and is doing – to us. To me.
She was slapped with a diagnosis of early on-set Alzheimer's. She was in her fifties when this happened. FAR too young.
I know people try to share their stories and try to relate – and it's not that I don't sympathize and appreciate it – but their stories are usually about grandparents. I'm sorry, but I don't think that's the same. Watching a grandparent in his or her 70s or 80s is NOT the same as watching your mom in her 50s. It's not. Not even close. Early on-set is much, much meaner. It attacks someone in his or her prime. Someone who was looking forward to retirement after working for almost three decades.
I can't go into my true feelings and emotions here because it's not just my story.
The pain it will cause if my parents read about it outweighs my need to write about it. For now.