And my heart will always belong in Goderich.
My childhood home. My town.
Yesterday was just surreal. We woke to a special day here. Baby Girl turned seven yesterday. We welcomed my parents (who live in Goderich) as they came to Kitchener to take us all out for lunch. Baby Girl chose Moose Winooski's and we had a fun and jovial lunch, complete with moose antlers for the birthday girl.
Then we were off to Toys R Us for Grandma and Grandpa's birthday present to Baby Girl. She took her time and weighed her options and ended up with some Littlest Pet Shop Teenies.
We invited friends over for supper and headed home, all in great spirits.
Then I checked Twitter.
I saw The Weather Network tweet this: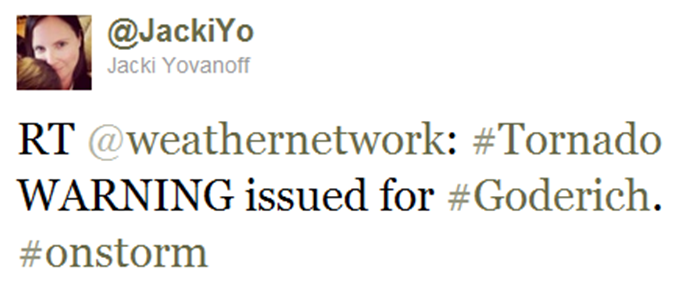 And this one: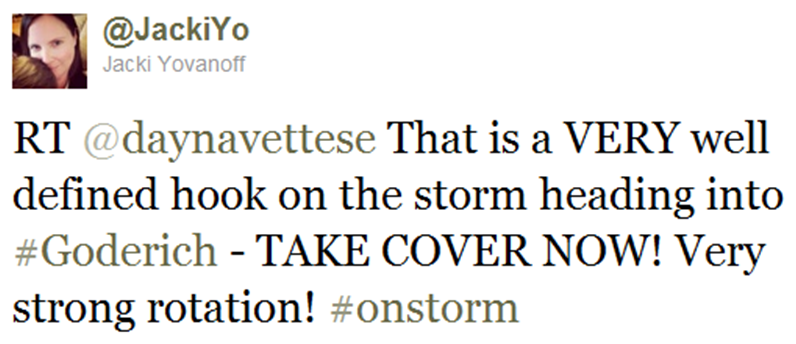 And I started texting some loved ones to make sure they knew and were getting to safety. Still thinking nothing really comes of these watches and warnings we hear.
My brother was in Stratford, but he spoke to his wife who was working at the mall and she said hail had broken a window, and it started to sound more serious.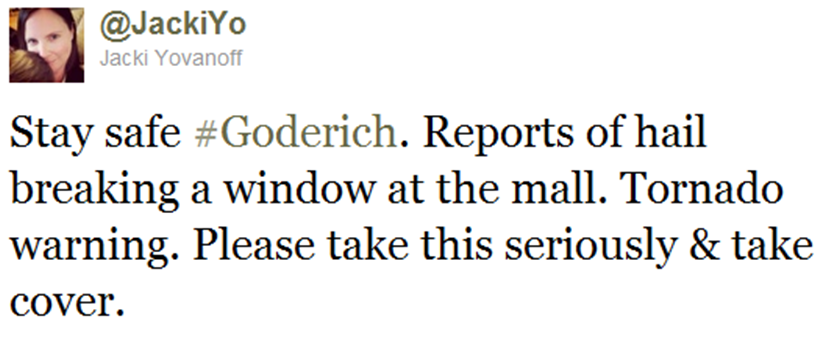 Then reports started coming in of more damage. I was still thinking it wasn't THAT serious. Maybe some minor damage here and there.

And then there was this tweet, and I'm still thinking a few trees and branches strewn across streets.

My comment on this tweet says exactly what I was thinking. No way. "Trees pretty much all gone"? Right. People exaggerate. There's no way all the Courthouse Square trees are gone. You'll see from the pictures below, that wasn't an exaggeration.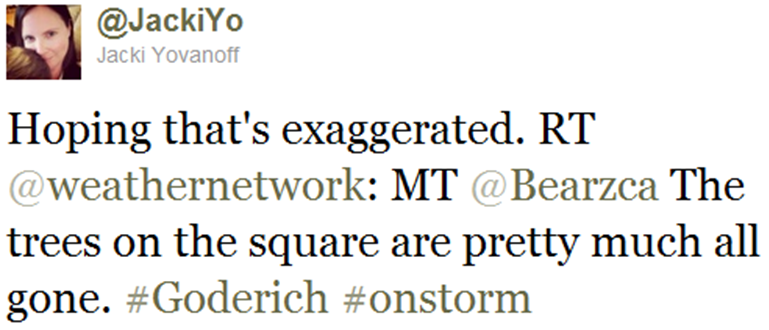 Then @waynekblack (resident of just outside Goderich, friend and someone who's also lived in Goderich his whole life) tweeted out this picture. That when the enormity of the situation really started to strike.
The emergency shelter was set up and I was sitting here in Kitchener trying to do whatever I could and the best way seemed to be spreading information – correct information. Going between Facebook and Twitter and news outlets, I was trying to piece together what was happening.

Then I saw this tweet with a picture attached and knew the earlier tweet about the "trees on the square are pretty much all gone" had not been exaggerated. And my heart sank further.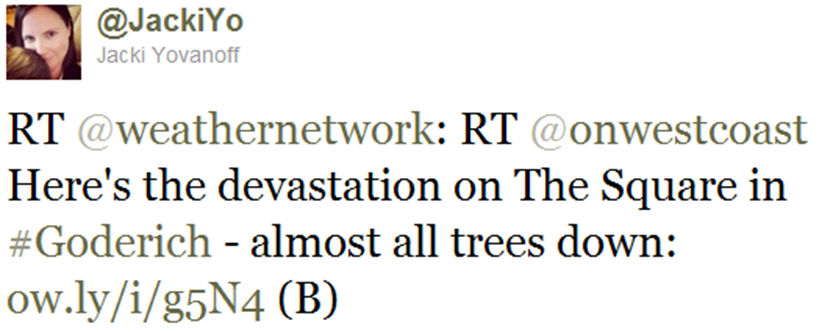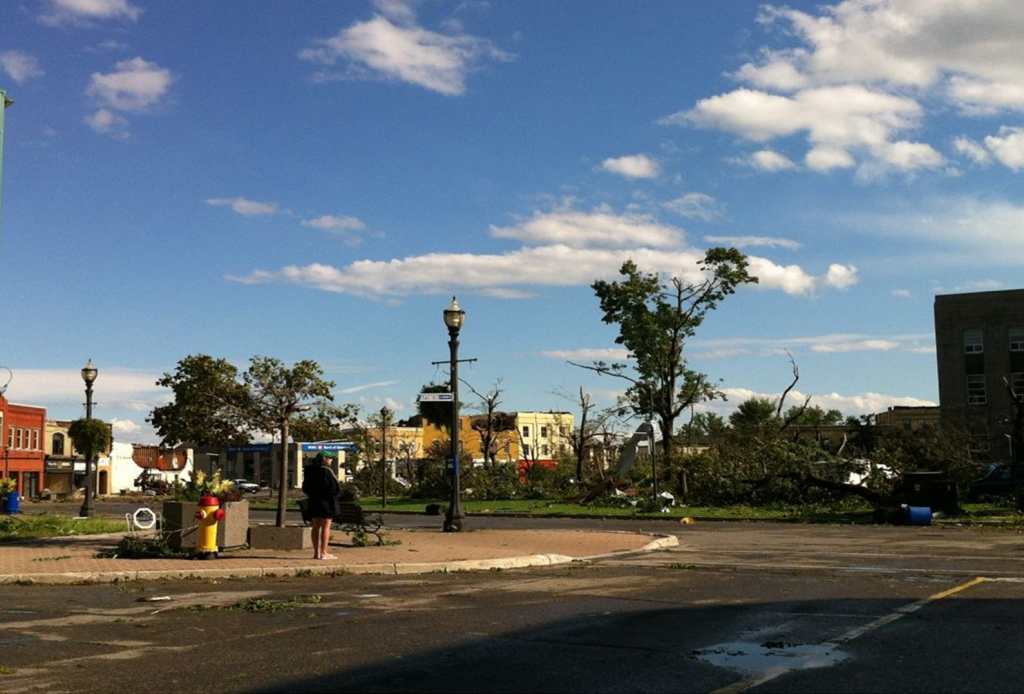 I still couldn't believe what I was seeing. I had my cell phone in one hand, cordless in the other, updating my parents as they drove back to this. Their hometown, too. Even my grandfather was raised in Goderich. Bouncing back and forth between Facebook, seeing if my cousin had heard from her parents, and Twitter for more updates. We had our friends and their kids here and my cell was going crazy with alerts and I was calling my parents back to tell them my aunt and uncle confirmed the houses were ok. (My dad just had a new roof put on two weeks ago, so he was thinking odds were, it would be wrecked.) My brother got back from Stratford to find his home was ok, too. My sister-in-law had some scary moments not knowing where her parents were, but thankfully were tracked down quickly – all ok.
It took a bit of time for my parents to get back into town, as checkpoints were set up and only residents were getting through, but at least they got home to a home. The trees across the street are all down, but their side seemed to fare ok.
My uncle and cousin are both volunteer firefighters with the Town of Goderich and I can't thank them enough for what they do on a regular basis, let alone what they – and all the emergency and volunteer services – are doing for my town right now.
I sit here in Kitchener, unable to get home to my town. The roads are still closed. Downtown is a "no trespass" zone. The last thing they need is a mob of unorganized people wandering through town asking what they can do. There should be an update today at 11am and we'll know more. Hopefully I can get there tomorrow to help with the clean up and rebuilding.
Here is a picture of a place I know well. My childhood home – where I lived from birth until I was twelve – is just to the right of the house in the foreground. That driveway there? I almost got run over right there when I was little. This is Picton St at Hwy 8.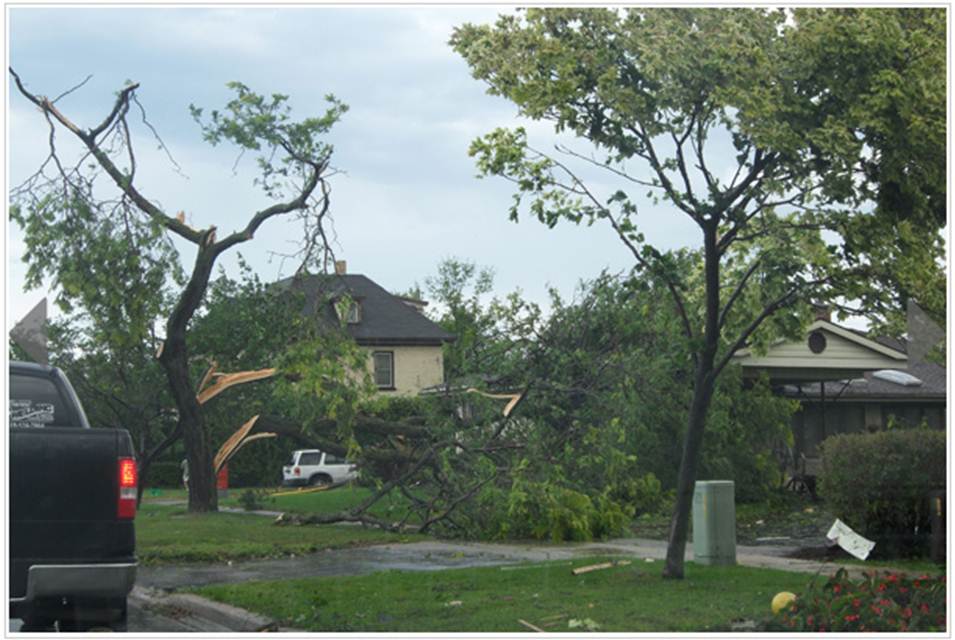 And this one shows the street I grew up on. There's the sidewalk where I learned to ride my bike. It's the same block I walked around and around, as I "ran away from home". You see, I wasn't allowed to cross the street, so I didn't get far on my great escape.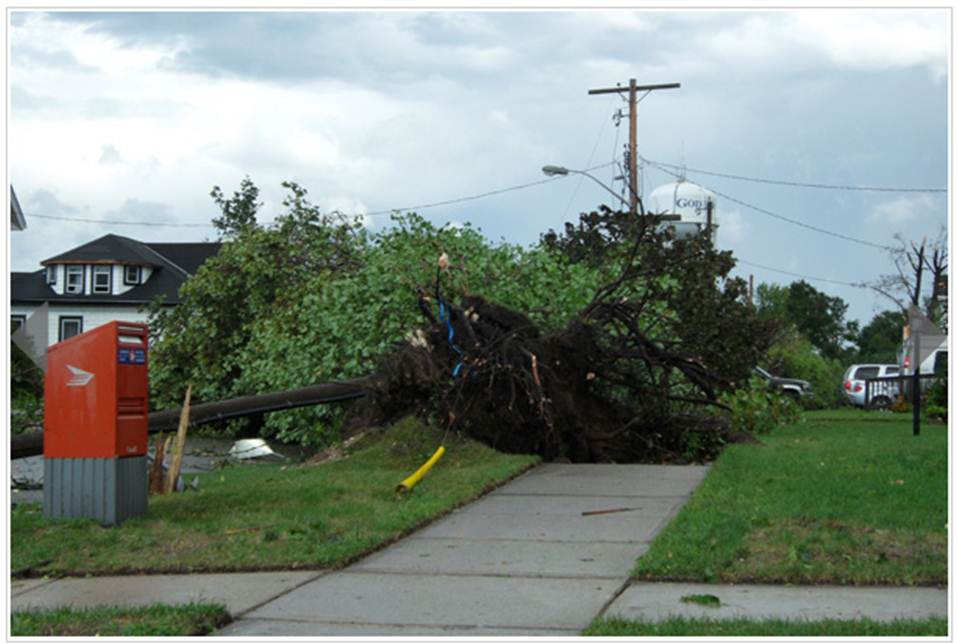 At least I'm pretty sure that's my childhood street… Hard to tell. (Picton St, looking east from Hwy 8 )
It's all still completely surreal to me. I can't believe the pictures and video I'm seeing are actually of Goderich. My sweet, sweet Goderich. So many wonderful memories there. Many of them recent. Canada Day we watched the parade from that same Courthouse Park that is now devastated. We went into many, many of those businesses this summer, some of whom I know the owners. And my heart hurts for them. So many small businesses have been throttled.
I spent a fantastic night in that same park two weeks later at my hometown beer tent. Chatted with a friend who is now homeless as of yesterday. Not sure how long she will be unemployed, as the restaurant where she works was walloped, too. I waited with a couple friends in this gazebo just before we went into the beer tent. That gazebo is now leveled.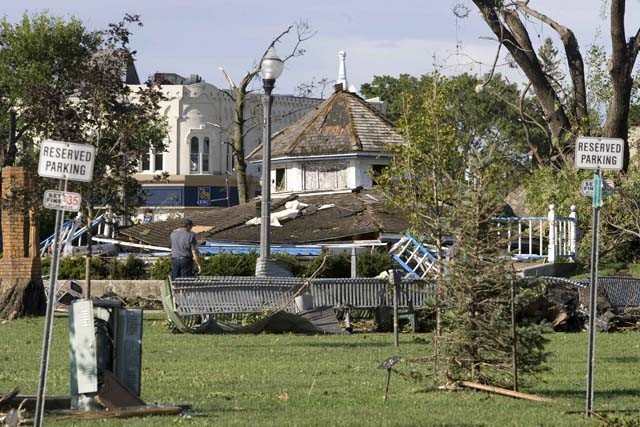 I spent some wonderful time at various Goderich beaches this summer. So, so many wonderful memories. It will take some time to rebuild – and it will never look the same again – but Goderich will get there. If it's one thing this town has got is heart and tenacity.
Here are a couple heartbreaking shots of the Victoria St church. That amazing architecture just demolished in a matter of minutes.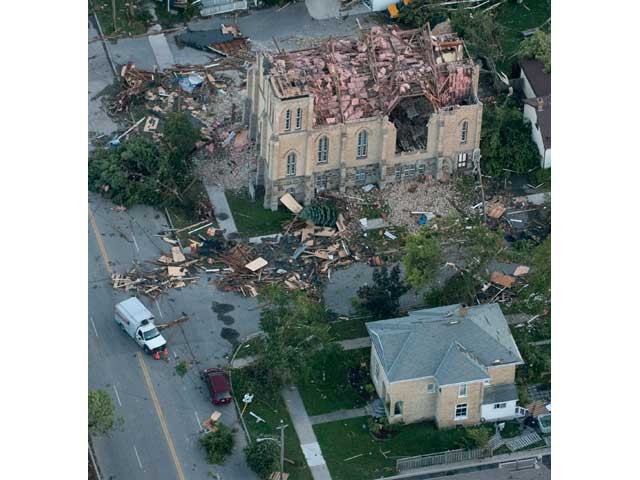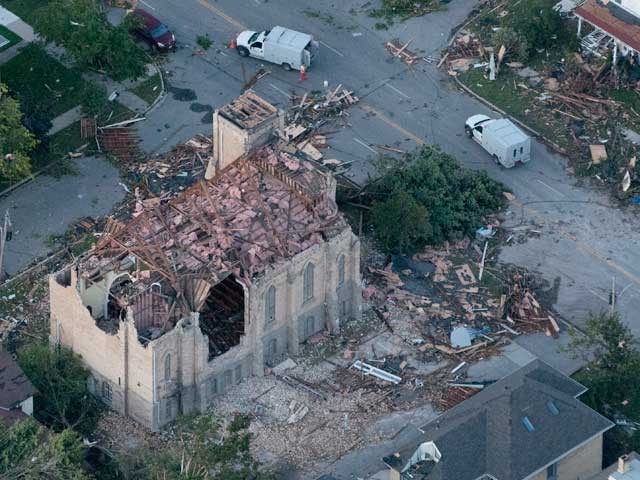 I hope Dalton McGuinty keeps his word and Goderich gets swift, suitable and sufficient aid from our governments. (Update: $5 million has been promised from the provincial goverment.)
I will leave you with these before and after shots of The Square in Goderich. These two pictures say more than I ever can. My home. My heart. My town.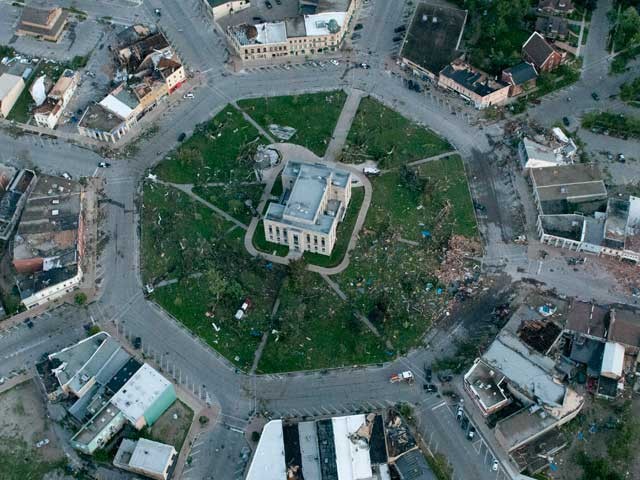 *These are not my photos. I have put photo credit in the names of all the pictures. Many more photos can be found here  and here and many more places.
UPDATE: I am absolutely floored that more people were not severely injured and killed. I just spoke with my father and he relayed a couple unbelievable stories.
A daughter of one of my dad's friends was standing outside her home in the west end with her neighbour as it hit. The neighbour's husband is unable to walk quickly and he was upstairs in their home. She watched from outside, no time to get in, as the house collapsed around him. He must have made it into a hallway and he survived. They needed to get a ladder to get him down from the second floor of their destroyed home. I can't even imagine watching your home collapse, your loved one inside, thinking for sure you just watched them die.
And another friend of my dad said his cousin was in a trailer down at the harbour. They looked out as the tornado was coming right at them and one woman said, "We're going to die." And then, at the last second, the tornado turned to the right and hit the salt mine, elevators and went up the hill instead of plowing them down.
Godspeed, Goderich.