I'm often wandering along, merrily meandering my way through life when something out of the blue makes me smile.
I thought I'd share some of those things today.
Driving along University Avenue in Waterloo.
As I'm driving along between Fischer-Hallman and Erb Street, all of a sudden it feels as if I'm not in the city anymore, but I'm right in the middle of city stuff. I love the serene feeling of this little stretch, especially in the summer when the trees completely obscure any trace of city. Day or night. I love that drive.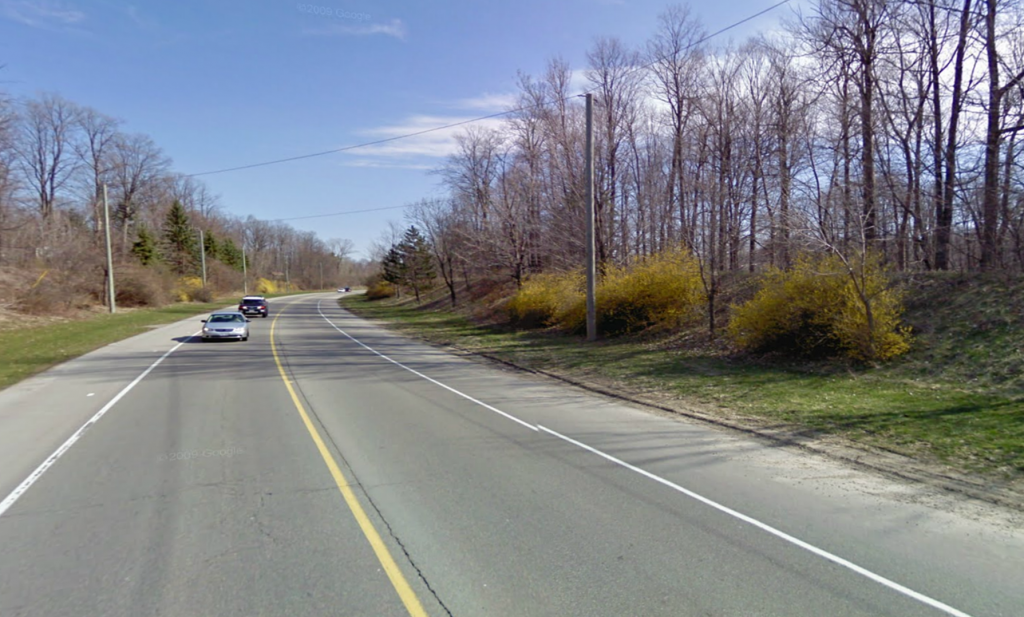 Watching birds "hang" on the wind.
I love a day that is windy enough to see birds just hanging there in the sky. Not flapping their wings. Not gliding. Not moving forward. Just hanging there, as if suspended, frozen in mid-air. It must be pretty cool for the bird, too.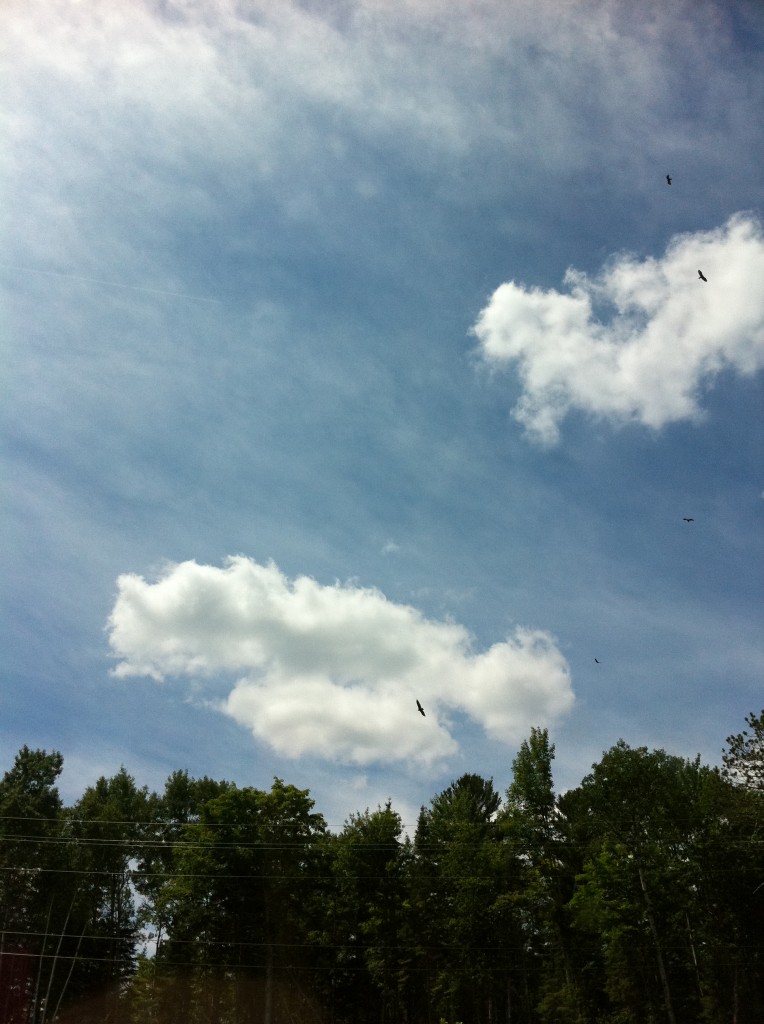 Seeing a whole whack of ducklings or goslings following their mother.
Waddling along with their little duck (or goose) butts. Fuzzy little gobs of cute, especially when they're quacking along on their trek.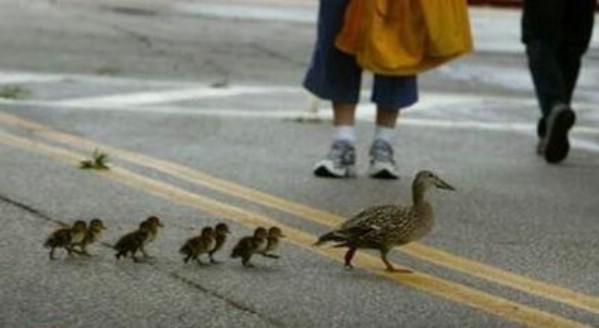 Seeing different cloud types in the sky.
I love looking up to the sky and seeing different clouds, as if on different layers of the sky (because I guess they are). I caught these ones yesterday. Cirrus and Cumulus, I believe. Almost as if painted there by some mystical brush. I love clouds in general. The ones that look as if they were set on the sky, with their flat bottoms. The ones that look like the opening to The Simpsons, with the bright blue sky and their fluffy, cotton ball look to them. Perfectly spaced.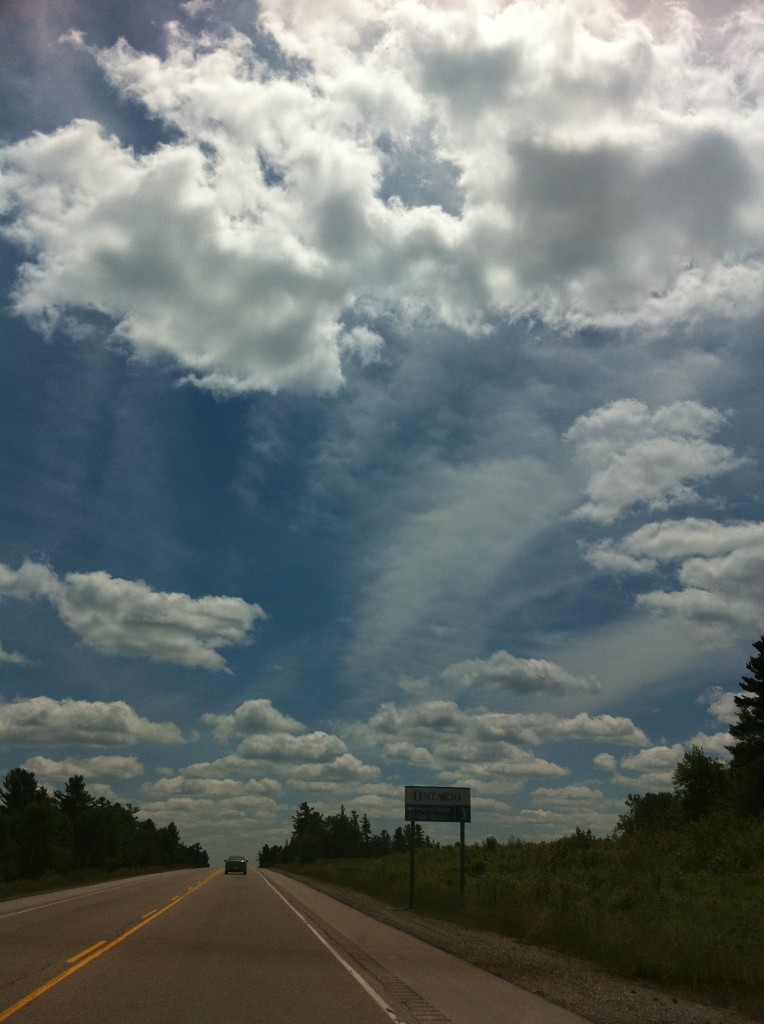 Inukshuks.
Inukshuks in general make me happy. We drove to Blind River on Friday and that stretch is beautiful. I'd never been past Midland/Penentanguishene before. The part of the drive between the 400 hwy extension and Sudbury was embellished with inukshuks, randomly built on the rocks along the way. These little figures made me very happy. I tried to get some pictures – which is a challenge as I was the passenger in a vehicle going over 100km/hr. I saw one inukshuk with a shirt. One had a Canada flag. A few were wearing ribbons. And to top it off, last night at a friend's housewarming party, I was talking with someone who has built a couple of those inukshuks. Love the universe.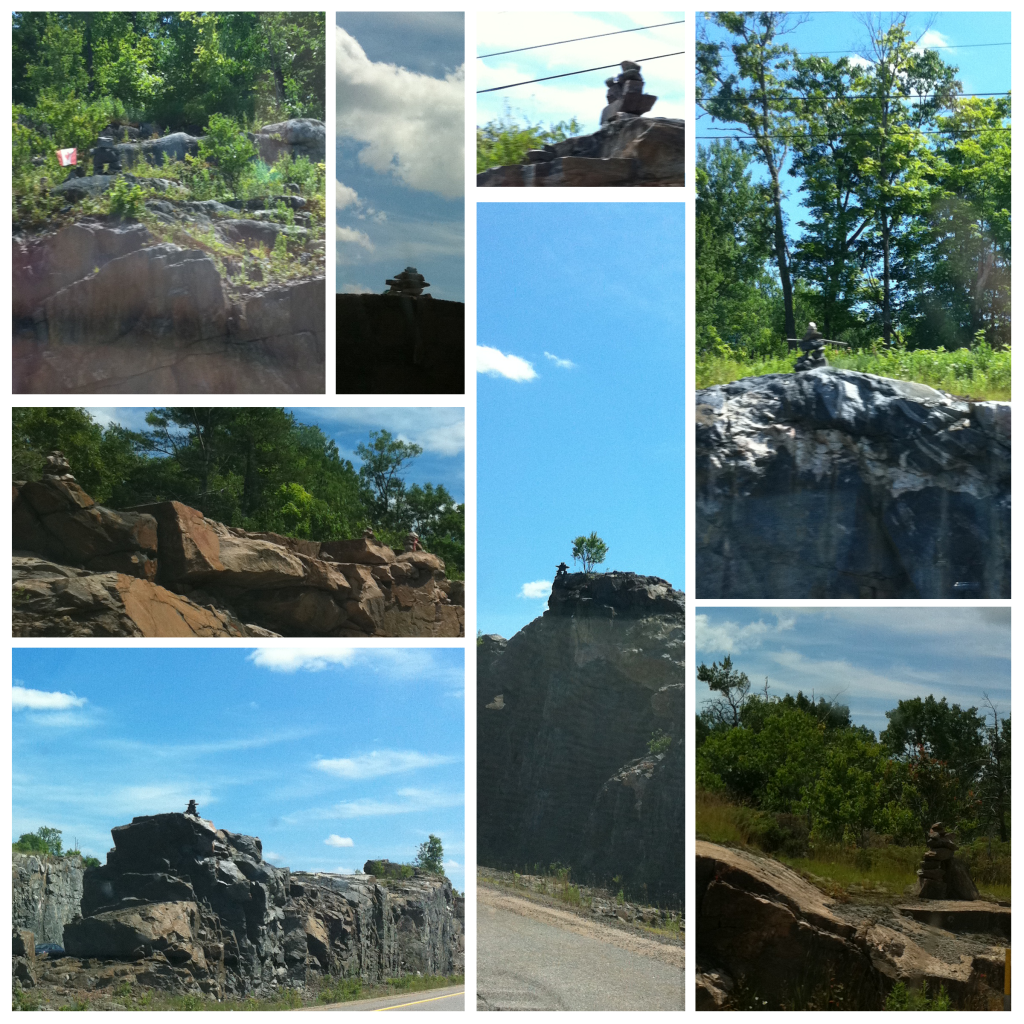 Dairy Queen chocolate-dipped vanilla cones.
More specifically, the first bite of the chocolate-dipped cone. One of my immense pleasures in life is that very first taste of a Dairy Queen vanilla soft-serve cone dipped in chocolate. It's that first bite just as the chocolate is hardening, but isn't quite brittle yet. If I'm lucky, I can get a couple delicious noshes in before the chocolate solidifies. I'm actually a little sad if the server sets the cone down before giving it to me and I miss that blissful state between liquid and solid.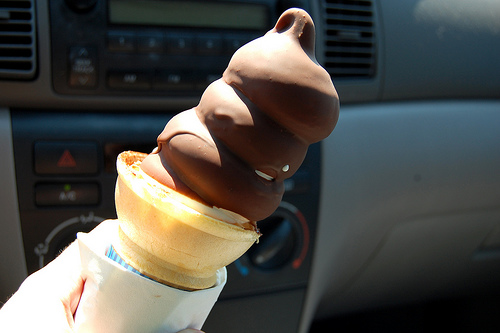 Watching kids jump through a sprinkler on a hot summer day.
Is there anything that screams "summer" more than this? The squeals of delight as the kids get sprinkled with cold, garden-hose water. Watching the different types of kids. The ones that hesitate and think too much before bounding through. The ones that bounce back and forth over and over. Then there's always that one kid that straddles the sprinkler – cute and funny at first, then it starts to get awkward. Next time you see kids jumping through the sprinkler, why not join them?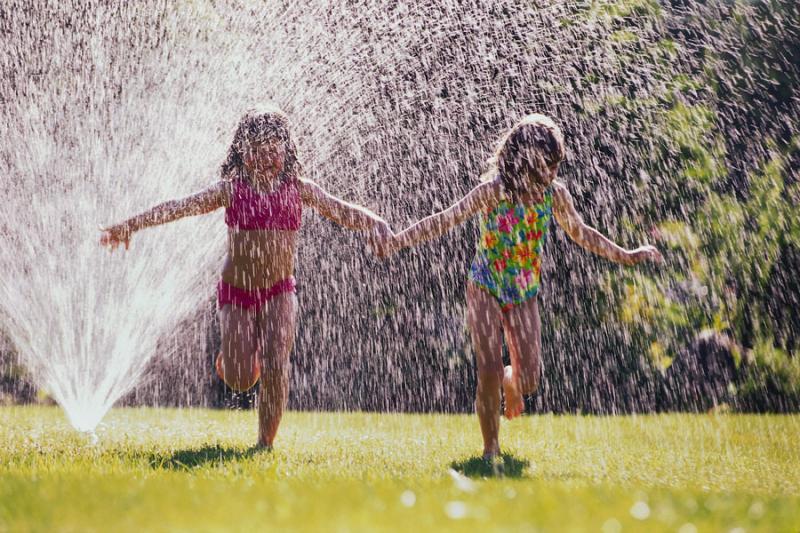 Samples.
I love sample sizes. Shampoo. Soap. Tissue. Detergent. And of course, food of any sort. They're cute. They're fun. There's no commitment. I love appetizer sample platters. I love the choice without the pressure of having to eat a regular portion. This is also why I love buffets. How happy was I when I saw a margherita sampler at Lone Star? Here's what I had on my birthday. YUM!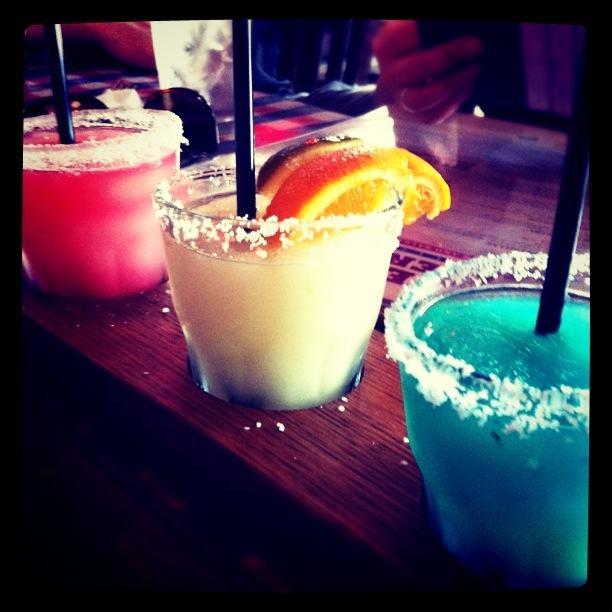 Anything with the word "moose" in it.
Moose just makes me smile. I love seeing moose. I love seeing the word moose.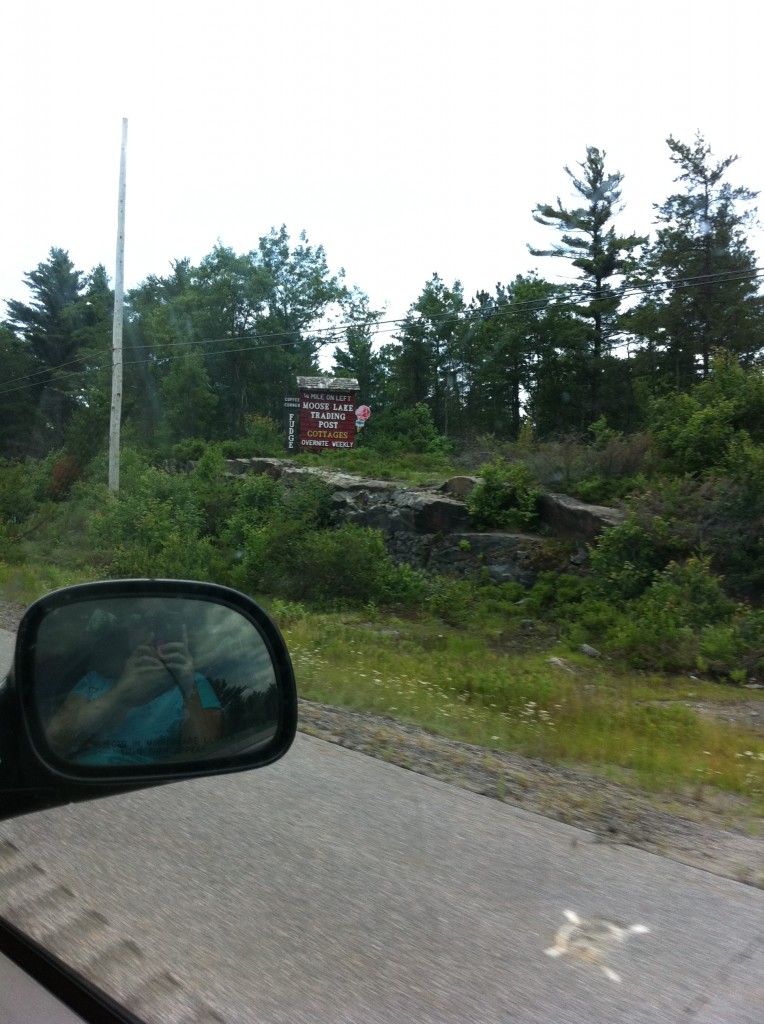 Kids waving from the back of the bus.
Remember doing this? Remember how giddy you were when you got to go with a group of friends on a fun trip somewhere? Remember waving at the passing cars? Remember how AWESOME it was when they waved back?! Make a kid's day and wave back.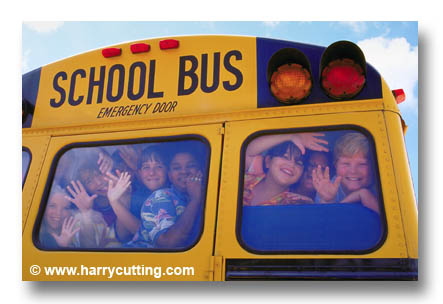 What kind of things make you randomly happy?