We were invited by Mirvish Productions to see Les Misérables on its opening night on Wednesday, October 9. We already had tickets to see it later in the month, but  jumped at the chance to see the show as soon as we could. We made our way to Toronto early, leaving around 3:30 in the afternoon to make sure we had plenty of buffer time for Toronto traffic. Curtain that night was 6:30, so we had to get into the city earlier than normal. We made it in about an hour and a half, parked and grabbed our tickets. We then had an unrushed and yummy dinner at Oniwa Japanese Cuisine just down the street. It was a nice surprise to get a 10% discount because we had tickets to a show that night.
Off we went to the Princess of Wales theatre, which was decked out in a red carpet for the evening. We sat in some of the best seats in the house (in our humble opinion), front row centre of the dress circle (first balcony) – a wonderful and completely unobstructed view with no one sitting in front of us. Then the house lights dimmed and the orchestra began. You could feel the excitement for this Canadian-cast of one of the most-loved musicals of our time, now in its 29th year. The 25th Anniversary edition of Les Misérables did not disappoint. From the Prologue 'Work Song' to the final reprise of 'Do You Hear the People Sing', it is a delight in every sense, visually, aurally, emotionally.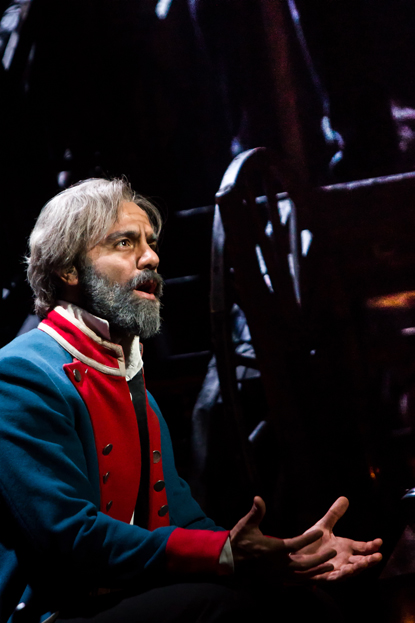 Ramin Karimloo as Jean Valjean – Les Misérables Toronto 2013. Photo Credit: Matthew Murphy
Richmond Hill native, Ramin Karimloo plays Jean Valjean exquisitely. His rendition of 'Bring Him Home' was hauntingly beautiful. Never in my life have I wanted to give a standing ovation DURING a show, but man, it took everything in me to stay in my seat as I clapped after he finished that song. He is as brilliant a Jean Valjean as I've ever seen, a treat to witness on the stage.
Melissa O'Neill is a delight as Éponine. Don't you just want to slap Marius and show him what is right in front of him?! #TeamEponine She finished 'On My Own' to raucous applause, including hoots and hollers. In fact, hoots and hollers were not uncommon throughout the entire performance – clapping just didn't seem sufficient, not to me or, it seems, most others in attendance.
The Thénardiers were played to perfection by Cliff Saunders and Lisa Horner, not only bringing humour to the musical, but also a twist of evil. The way Lisa Horner delivers Mme Thénardier's lines is not to be missed.
The cast is simply full of amazing talent from the title roles to the ensemble. Strong voices, strong actors.
I love the contemptuous respect Jean Valjean and Javert (played by Earl Carpenter) have for each other, their decades long dance ending only in death. Their delicious interaction with each other is captivating. Who is the "bad guy" and who is the "good guy" here? Or is there either?
The addition of Victor Hugo's paintings adds a new depth to the show. They are used masterfully and bring this to a new level. The set simple yet complex. The sewer scene is breathtaking in its artistry. (Is there a theatre equivalent to Best Cinematography? If so, this should win, hands down.)
When the cast wrapped the final song, the theatre erupted in thunderous applause, cheers, and hollers. Simply standing to give our ovation seemed inadequate. I was actually brought to tears by the emotion in that standing ovation, a collective swelling of pride at our Canadian cast, the culmination of almost three hours of sheer theatrical beauty.
I first saw Les Mis on a class trip in high school and have been a fan ever since. Whether you've been a fan of Les Mis for 25 years, as I have, or have just been introduced to it through the recent film version starring Hugh Jackman, Russell Crowe and Anne Hathaway – you NEED to see this mounting. Go. You will be hard-pressed to find a more emotional and moving theatre experience. This is the quintessential piece of musical theatre, and this particular mounting of it is just phenomenal. I can't say enough about it to do it justice.