I was thinking the other day as I sat in church (yes, I went to church for the first time in probably two decades where it wasn't for a wedding or funeral). My mind wandered to all the amazing theatre we have within about an hour's drive of Kitchener-Waterloo. And this post won't cover it all. Feel free to post in the comments about other gems – and deals you may know of around the area.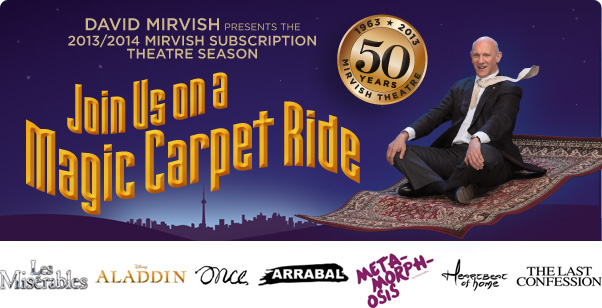 First of all, there's Mirvish Productions. The current season is fantastic – including Wizard of Oz and Book of Mormon. I saw Wizard of Oz near the beginning of the run and loved it so much, we bought tickets to take our daughters back to see it. I'm sure they'll love it, too! And with Off-Mirvish's amazing offerings and their bonus shows, there is so much to see just with this one company. And NEXT season looks to be all kinds of fabulous. Les Miserables, Aladdin, Once, and SO much more. Even though I usually get to go to the media performances, we're going to buy subscriptions this year, too. Off-Mirvish is currently in performances of Clybourne Park – a must see. We laughed SO hard. The actors are stellar and the show is incredible. Next up is Mary Walsh's Dancing with Rage. Really looking forward to this one, too. Must remember to pee before the show starts!
All around the KW region, we have Drayton Entertainment. They're found in St. Jacob's, Drayton (obviously), Grand Bend, Penetanguishene, and now Cambridge. (Can I get a woot woot! for Cambridge's new Dunfield Theatre?!) Drayton Entertainment also has a fabulous upcoming season and I've been lucky to see many of their past productions as part of their media nights. Mary Poppins is the inaugural production at Cambridge's new Dunfield Theatre. I've seen the show twice – once in London's West End and once in Toronto. A very fun show, indeed. I'm also really looking forward to Oliver! (I was once a po0rhouse boy in elementary school) and Spamalot – who doesn't love Monty Python? The compilation musicals such as Big Band Legends or Legends of Harmony are always a delight. I saw Big Band Legends last year and had a great time. I'm also really looking forward to Tuesdays with Morrie – one I have not seen. They're also doing Sound of Music, which I'm sure will draw many to the theatre. And check out the rest of their season online.
And, of course, we have Stratford Festival about a half hour in the other direction. Absolutely stellar productions and performances. I was blown away by Jesus Christ Superstar a couple seasons ago and even made sure to see it on Broadway (yes – that production got picked up and plunked on Broadway for a stint. Sad it didn't run longer there. And I'd LOVE to see that show back.) Anyway, I digress. This next season is shaping up to be another memorable one. With offerings such as Romeo and Juliet, Fiddler on the Roof, The Three Musketeers, The Merchant of Venice (which I remember seeing on a high school trip), and, the one I'm really looking forward to this year – Tommy. Take a look at the rest of the season, too.
Right in town, we have Centre in the Square bringing us tours of Broadway musicals, such as last year's Shrek: The Musical and Young Frankenstein. Can't wait to see what they have for us this year.
Another gem is the KW Symphony, with many of their performances held at Centre in the Square. Their Electric Thursdays (which we see on Wednesdays) are always fun. I managed to catch Michael Jackson and a Beatles night this year, and look forward to their upcoming ones. The KW Symphony has just announced their 2013/2014 season and it promises to deliver once again. Superheroes?! Yes, please. And ABBA? Fun! And that's just a couple offerings.
Heading back to Toronto, we have Lower Ossington Theatre. We saw and LOVED Avenue Q – and it's been extended until March 3 so you still have a chance to see it! They have some fun shows coming up, including RENT and a run of some kid-friendly offerings. And if you book online by March 8, you can save 50% on the kid-friendly shows using lotkids. Keep your eye on this theatre – and sign up for their email newsletter for LOTS of great deals!
In Toronto again, we have CanStage. I've seen many productions through Canadian Stage and they've all been worthwhile. They've announced their 2013/2014 season and I'm really looking forward to Venus in Fur. I caught this while I was in NYC last June and LOVED it. I'm very excited to see the production of it when it comes this way. I highly recommend this show. And if you happen to like Jason Priestly, you can catch him in Race starting in April.
I know I didn't really do much of a review on the shows I've seen recently, but there was SO much to pack in here. And I know there is more! As I mentioned at the beginning – feel free to add your comments and what I've missed. And any deals you know of!
And here are some twitter suggestions to keep up on all the latest and greatest theatre news around KW and the GTA:
@mirvish @LOTheatre @broadwaybabyTO @glennsumi @stratfest @drayton_theatre @canstage @centre_square @kwsymphony (Sorry about not hyperlinking those, but I'm tired now! Maybe I'll come back and edit the post to add the linky love.)