Do you love Phineas and/or Ferb? Maybe Agent P or Perry? Who doesn't love the platypus?!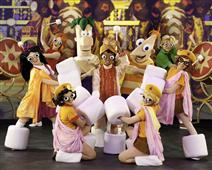 We're Phineas and Ferb fans in this house, so we're super excited to be going to see their BEST LIVE TOUR EVER! when it comes around this way. Phineas and Ferb will be showing up in Oshawa, Windsor, Hamilton, Kitchener, London and Toronto. And guess what? I have a discount code for you. Simply use MUM4 to save on tickets. This will get you 4 tickets for $44 on weekdays and $4 off per ticket on weekends. And here's an easy link for you to purchase tickets online.
Oh, and that's not all. Feld Entertainment has given me tickets to take my kids to see the show. Cool, eh? Oh what? You want more? Ok fine.
I have a family four pack of tickets to give away for EACH LOCATION! That's right. Pretty cool. I have SIX family four packs of tickets to give. Here are the details for the giveaway:
Oshawa – Dec. 15 at 4pm
Windsor – Dec. 28 at 7pm
Hamilton – Dec. 29 at 7pm
Kitchener – Jan. 4 at 7pm
London – Jan. 6 at 7pm
Toronto – Jan. 11 at 7pm
All you have to do to enter the contest is comment on this post and state:
Who is your favourite character from Phineas and Ferb.
What location(s) you would prefer (For example, if you only want to be in the random draw for Windsor, state Windsor. If you would be willing to go to Hamilton, Kitchener or London, state all three.)
You can enter once per day until midnight on November 30. Winners will be selected by random.org  and notified via email, twitter or facebook by December 4.
Good luck!
For more Phineas and Ferb and Disney Live fun, check out the Facebook page and follow Disney Live on twitter @disneylive.
Check out the Phineas and Ferb: The Best Live Tour Ever playlist on YouTube:
http://www.youtube.com/watch?v=vkPor1chktM&feature=share&list=PL6D98EE33E284252E