One of the current offerings at Huron Country Playhouse in Grand Bend is Annie. And it runs until Saturday, September 1 – so hurry! Go! And what a great way to spend a day or evening this long weekend. Head to Grand Bend, hit the beach, see the show.
Drayton brings this spirited little redhead to life in this beloved stage production. (If you're familiar with only the movie version of Annie, you will notice quite a few differences in the stage show.)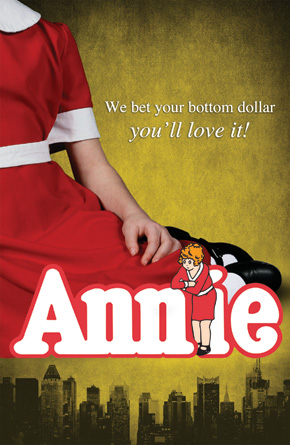 The show opens with my favourite song of the musical (and movie)… Maybe. And this little girl, Dominique Le Blanc, can sing – as can all the orphans. These little girls have more talent than I ever will! Those who've seen me at karaoke will concur.
I loved Victor A Young. He had a commanding, yet understated presence as Daddy Warbucks – a man with a tough shell and chewy, soft-hearted centre.
And Rooster Hannigan and his ladyfriend, Lily St Regis, were played delightfully over-the-top by Keith Savage and Melissa Thomson-Hicks. This scheming pair will have you grinning from ear to ear. And, of course, you're never fully dressed without a smile.

This is a fabulous production to bring the whole family to. There were many kids at the performance I saw and they were all enthralled and loved it.
As I mentioned, it's currently running in Grand Bend. But you'll also have a chance to catch it in St Jacobs later this year. Do yourself a favour and catch this heart-warming show.