I don't know why I've been sitting on this post. It's not going to be earth-shattering. I don't intend to pour my heart out. Maybe I don't want it to be boring.
This post is more about how I intend to tie my related posts together.
I'm on a journey. I guess we're all on a journey of some sort. My journey is one of becoming me again. Emerging from numb. Seeing colour again.
Or at least trying.
All the while trying to do what is in the best interest of the two most important people in this whole, messed up situation – my two innocent kids.
I was trying to think of a word to use to tie all these posts together. A good tag word. A category.
The word I keep coming back to is "resingled".
I worked on an eBook a few months back (yes, Universe, your timing is impeccable). This project was plunked in my lap (or I was slapped across the face – whatever) at just the right time.
Re-Singled: 12 Truths, Half-Truths and UnTruths of Divorce is a work by Lee Block of postdivorcechronicles.com and I had the honour of designing it. (You can find the eBook here – not an affiliate link. I just really like the book.)
The book spoke to me as if a really good friend were talking to me. A really good, yet blunt friend. Telling me the things I needed to hear, in a gentle, yet straight-forward way.
I saw myself – too much of myself – on those pages.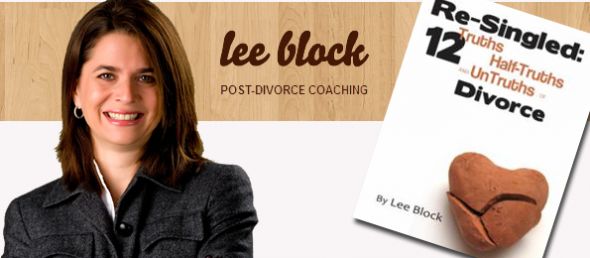 It starts off by saying:
And while there are relationships that can be repaired and go on to flourish, there are so many others that are as irreconcilable as can be. You know the saying about rearranging deck chairs on the Titanic? The same principle goes for working to fix something that is, at its core, utterly unfixable.
I read things such as:
We never fought in front of the kids. We'd just become silent. I felt invisible to him…
Or this. This part I read while sitting in my van. In a parking lot. At about 10:30 at night because Chapters had closed. Was she in my head?!
Each night for months, after I put my kids to bed, I'd grab my car keys and escape the house that I had now considered to be a prison. I'd drive around all night. I'd go to 24-hour grocery stores and wander the aisles. I went to bookstores and sat in late-night movies. I did anything to not be at home. And not one time did my husband call me to ask me where I was, when I was coming home or even if I was coming home.
This book spoke to me personally throughout its 12 truths, half-truths and untruths.
This was way more than a project I was working on.
And no matter where you may be on possibly your own "resingling" journey, I highly recommend this eBook. It was comforting and shook me to my core all at the same time.
And so this is why all my posts related to this divorce/separation/re-emerging journey will be tagged and categorized as "resingled".
It's the only word I feel fits just right.
And thank you, Lee Block, for letting me use your word.