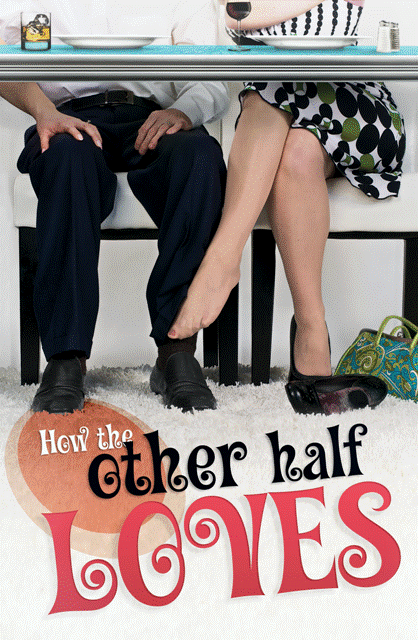 This has been quite the week for shows for me. My husband and I saw Italian Funerals & Other Festive Occasions on Sunday, Twelfth Night on Tuesday (fantastic, by the way), and I saw How the Other Half Loves last night with a friend.
My husband had planned on joining me last night, but work came up. The timing worked out well, however, for a good friend to join me. She had just arrived in Grand Bend the day before from Halifax. And since the play was at Huron Country Playhouse II in Grand Bend…. Perfect! I went to visit Carla-Ann (and her sweet little boy, wonderful husband and amazing mama) in Grand Bend and had a wonderful home-cooked meal before heading out to the theatre. Just before the show started Carla and I ran into an old boss from our Goderich Signal-Star days. (What is it with me running into former co-workers at the Drayton Entertainment shows?)
Carla and I made our way into the brand-spanking-new Playhouse II and found our seats. The space has just been (still is being..) renovated and has expanded from 150 seats to 300. The seats literally just went in the day before the opening. The paint was still drying, the trim has yet to be put up and the carpet to be laid. The space was still very welcoming, even in its state of unfinishedness. Our host for the opening, Neil Aitchison, joked about how the painters were backing out the back door as we were arriving through the front.
The set was fantastic. I wish I could have taken a picture for you, but you'll just have to see it for yourself. I love how they combined two homes on the stage.
The play is very well done, playing with time and space. The two couples that live in the homes we see on stage go about their lives at the same time, on the same stage, crossing each others' paths, sitting at the same table, on the same couch, but each is in their own distinct homes.
Then we come to dinner and the poor, unsuspecting third couple (the Featherstones) joins the Fosters on Thursday night and the Phillips on Friday night. The dinners, to us, happen concurrently.
Characters intermingle – as Bob Phillips and Fiona Foster attempt to hide their infidelity by using the Featherstones as alibis.
Their stories come crashing down around them – and everyone else in their path – as the play progresses.
It is brilliantly done and hilarious.
How the Other Half Loves runs through July 23 at the new Playhouse II space in Grand Bend and then moves to Drayton Festival Theatre from July 27 to August 13.