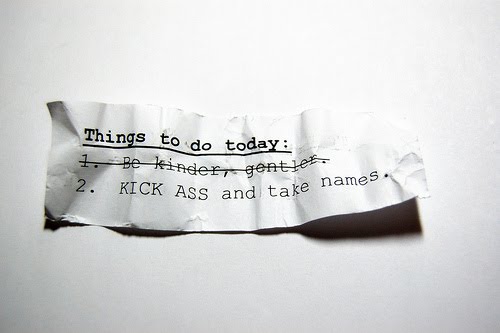 What songs get you going? What ones help pull you out of a funk?
What songs make you feel like you can take on the world? That you ARE f*ckin' perfect?
Here are some of the songs that make my cut. Some are because they are kick ass. Some because even though the song might be a bit 'meh', the lyrics totally kick ass.
This is my sampling. I'd like to hear yours.
I'm going to kick it off with my man, Eminem. Lose Yourself is THE motivational song. It gets you pumping, thumping and ready to take on the world.
Next up is my first P!nk song in this list. Raise Your Glass! Do it. You ARE awesome.
Next Christina tells us we're all Beautiful in every way.
And because I'm an 80s geek, I've gotta throw some John Parr in here. Man in Motion. That is totally what you are. Unless you're a chick, like me, then, well… you're a woman in motion.
Let's stick with the 80s and Irene Cara is gonna make us fly with What a Feeling. You know you can do it and this song is your anthem. Sing it loud! And dance! (And possibly weld, if that's your thing.)
How about some Katy Perry? Although this song doesn't really have a big climax, the lyrics are all about letting your true-self soar. So go for it!
We're gonna kick it old school a little bit again. How can you not tear up during this one? Especially if you watch the video with the kids? Whitney Houston rocked (ok that might be a bit much) the 1984 Olympics with One Moment in Time.
You're amazing. Bruno Mars thinks so, too. Yup. Just the Way You Are.
And of course, we have Lady Gaga. She is PROUD of who she is and she wants you to be, too. Cuz baby, you were Born This Way!
Let's put a little more P!nk in here, shall we? (I could just make a whole post of P!nk songs, but I'll just put two in this one.) If you ever, ever feel like you're less than F*ckin' Perfect, well.. listen here.
And finally, my personal theme song. Defying Gravity – the Glee version – with Kurt and Rachel. "I'm through accepting limits, 'cuz someone says they're so." Damn straight. Take us home, kids.
So? What would you add to the list? Am I way off base with any of these? What are your go-to songs?