What's the buzz? Tell me what's happening.
The buzz is Jesus Christ Superstar and it's happening at Stratford Shakespeare Festival this season.
I know. One would think a show where they sing pretty much every single syllable could get tedious, but na-uh. This is a fantastic production of a fabulous musical.
The set was amazing. I love what they did with the space. It was simple (to the eye, not in design, I'm sure). I loved their use of scrolling type, especially during the closing number.
I felt as if I was watching our vinyl record come to life. It was raw, with the 70s vibe this rock opera has at its core. I had such a great time I can even forgive Tim Rice for "rhyming" Lord and fraud; and Messiah and fire. (I know. Oy. He was young when he wrote the lyrics. I'll let it slide.)
I absolutely LOVED King Herod's song. Bruce Dow was absolute perfection. I would post a version of the song here, but I can't find one on YouTube that even compares to the life he put into it. He made the song his own and it was full of complete fabulousness.
I found myself coveting Mary Magdalene's dress (not the one in the picture). I loved how it draped off her body. (I guess I would need the body to go with the dress, though… sigh). The role was played beautifully by Chilina Kennedy, who I saw in Mamma Mia – and am looking forward to seeing in Grapes of Wrath at Stratford this season, too.
The entire cast was amazing. Not a flaw in the casting. Well done!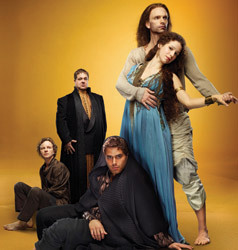 I am so excited to be a part of the Festival's "tweet team" this season. (You can find them on Twitter @stratfest and @stratfestaaron. And each show has its own hashtag. This one is #ssfsuperstar.) I have the chance to see these fantastic shows for free – which is perfect for me, since this year it wasn't looking as if I was going to be able to get to the shows any other way. This post was not swayed in any way by the fact I didn't pay for my ticket. This is an awesome show, with a fun soundtrack, a fabulously creative set and songs you'll be singing long after you leave the theatre. Do yourself a favour and make sure you see this production.
What are you waiting for? Go. Go now!
And here's what Chris Farias (@kitestring) and I thought of the show immediately after we saw it.