I've gone through the change.
I will never be the same.
I'm in a club that once you enter, you can never leave. (Kinda like the mob, but without the knee-cap smashing.)
My change came January 8, 2004. In the evening.
It was about a month after I found out I was pregnant with my first child. Sure, I was excited when I saw those blue lines on the pee-stick, but I hadn't really changed yet. I wasn't a mom yet. I was an excited woman. A thrilled wife. But I wasn't yet a mom.
I became a mom that January night. I went to the bathroom and there was blood. Not a lot. But some. The most miniscule amount. I had probably lost more blood through a nasty papercut, but this stung way more. This hurt in a different way. It was a pain and fear I had never felt.
We called TeleHealth Ontario (so happy to have that service) and there really wasn't much they could do or say. We saw our doctor the next day – our amazing, caring, but straightforward doctor. She said – and I remember this clearly – "It could mean nothing. It could mean everything." And either way there was really nothing we could do about it.
We were scheduled in for an ultrasound for the following Tuesday. Everything was fine. I sighed the biggest sigh of relief I'd ever felt.
I had been bursting with joy at the news of having life growing inside me, but I didn't really get it until that night. That's the moment I really knew I was a mom. I had a glimpse of that emptiness I could feel. I tasted the helplessness of not being able to do anything. But I'll never really know what it truly feels like to have a miscarriage.
How has this changed me?
There's the physical, of course. Stretch marks. Saggy belly. Knees that sound like maracas when I go up – or especially down – stairs. Boobs that have completely given up their fight against gravity. A pinched nerve running under my right shoulder blade that still bothers me every month, even four years after the birth of my second baby. (I think my kids like the fact that they've left permanent marks on my body and changed me physically. It's like proof they were in me at some point.)
I'm now constantly "on". Always aware of the presence of these two beings. Whether they're with me or not, they are always on my mind. Right now they are with their Nana and Grandpa. I wonder what they're up to right now. Probably playing with the new kitten they were going to help pick out this weekend.
There's a heightened sense of awareness of the world. That mama bear instinct is always there. How close is that stranger coming to my daughter? How high is my son climbing? Does she need another coat of sunscreen? Where did his hat go?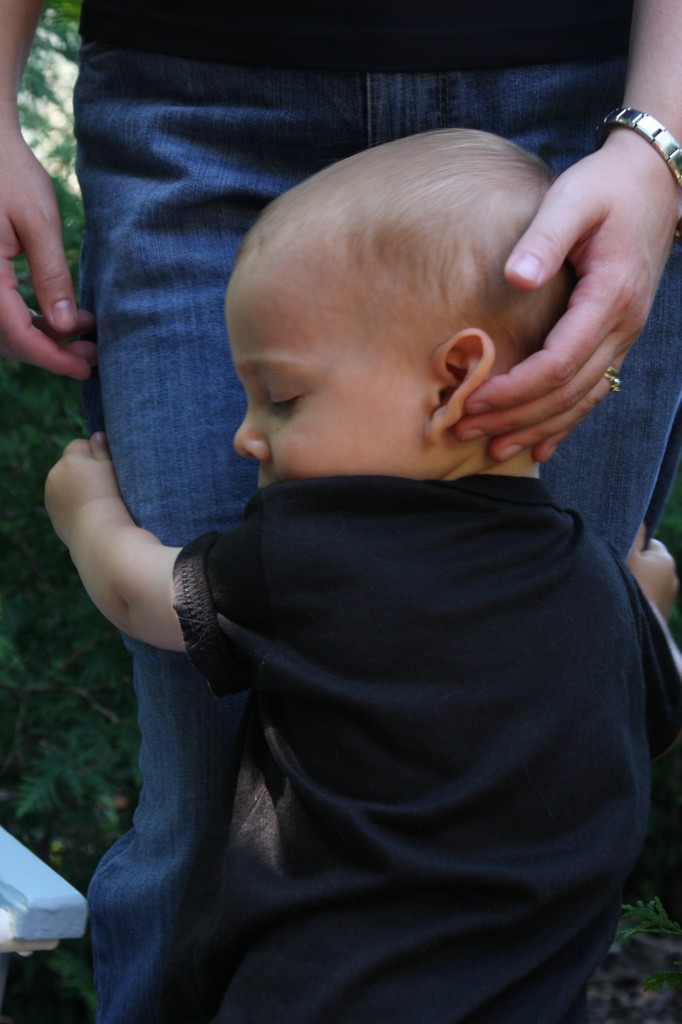 There's the need to help guide these two, precious beings and help them become who they already are deep inside. To help them discover all the amazing things they can do. To find the balance between keeping them safe and encouraging them to explore. The balance between being there for them and not smothering them or their innate sense of curiosity. Helping them let their true selves shine and be who they really are while showing them the mores and "rules" of our society.
I've yelled more in the last six years than I have in the thirty that preceded them. I'm not proud of that fact. It just is. It's something I'm changing and I know I'm a work in progress, too.
TV shows and movies hit way closer to home now. I never really noticed how many mystery and crime shows involve children. Oy!
These two small people have changed me. For better. For worse. Inalterably changed me. There's no going back. I am a mommy. A mom. Sometimes a mother (not too much of that yet, but I'm sure my MOOOOOTHER! days are coming.)
Another side effect of having these two beings is their ability to slow down time, while at the same time, speeding it up faster than I've ever experienced.
"The days are long, but the years are short" is so true. It's amazing how slowly the minutes can pass when your newborn is crying, seemingly inconsolably. But then… that stage is over in a breath.
My oldest is almost seven. This summer she'll be seven! I blinked and she's gonna be SEVEN!! If I blink again, she'll be FOURTEEN!! I was so overwhelmed by that thought driving down the street the other day I was brought to silent tears.
November 23, 2003 I became pregnant.
December 5, 2003 I found out I was pregnant.
January 8, 2004 I became a mom.
August 21, 2004 my daughter was born and I met true love.
April 21, 2007 my son was born and I knew I had infinite love in my heart. I fell in love all over again.
My children have given me more than they can fathom. And I hope one day the change happens to them as well.