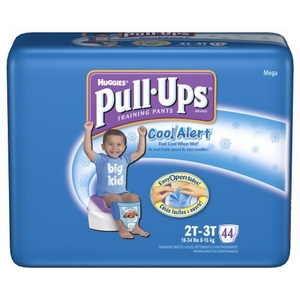 So, the new thing for week four was not for me, directly anyway.
We've been on this potty train for MONTHS now and I'd really like to disembark. Seriously. Can I get off this train?!
The Boy is doing ok with the potty training. He rarely has accidents anymore, but he still leaves it until the last possible second and sometimes doesn't make it. He is also not a fan of going when he's asked to do so, such as before we go in the car or something along those lines.
He's out of diapers except at night. He was doing really well and we were about to abandon the "nighttime diapers" when he started peeing almost every night again. This has been going on for at least a couple months now. Every nighttime diaper has pee in it.
So, when we were almost out of our diaper supply, I had to go and stock up on more. This is when I decided to go for the pull-up style. I also wanted some sort of incentive for The Boy not to pee in the diapers. I always thought the "cool alert" thing was a bit silly, frankly, and avoided any gimmicks with Baby Girl. The Boy, however, is being very stubborn and we need to pull out some bigger guns here. So, I bought some Huggies Pull-Ups Cool Alert. I was hoping he would feel discomfort and decide to stop peeing in the diapers.
No such luck. He only mentioned once that he felt uncomfortable. Once. And it didn't phase him, really.
So, for us, the "cool alert" is a bust. Totally.