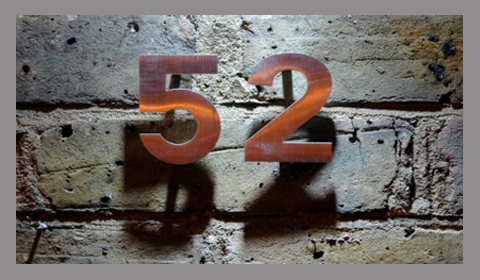 By the end of 2011 that will be 52 new things. Not bad for someone who has gotten pretty set in her ways. This idea is kind of an afterthought. It wasn't really a new year's type thing or a big, dramatic undertaking. I saw a tweet in my twitter stream about someone who was doing 52 new things this year. For the life of my I can't find that tweet or the blog post it linked to. (Sorry!) If I find it, I will link it back here. I happened to see that tweet on a day I had tried tuna casserole for the first time. Actually, I made tuna casserole and ate it for the first time. Ok… It was actually "Tuna Helper", so I didn't really "make" the casserole, however I am now pretty positive it would be a fairly simple undertaking… and way healthier to do make a homemade version. Maybe that will be one of my other 52 new things.
So, I thought, "Hey. Maybe this will be kinda fun to do 52 new things this year – big or small – and blog about each of them." And here I am.
Week One – as mentioned – was making and eating tuna casserole. (Daring, I know!) I am not really a fish person. My husband does like his fish and chips. I didn't grow up eating fish – at all. Or Chinese food. Or anything other than meat and potatoes. And pasta. We had pasta. We've started incorporating more fish into our lives for the kids and their brains.
Week Two – I hard boiled eggs. Again, not earth-shattering, I know. I have microwaved eggs and hard boiled them, but I have never tried it by slow cooking them on the stove top. I googled how to hard boil eggs and found a step-by-step guide. I wanted to make a bunch at once and refrigerate them as Erica Ehm suggested in one of her egg videos (around the two-minute mark is the tip). And… they turned out perfect! I did my little happy dance and fed the kids eggs. One egg was eaten quickly and the other was poked at and picked apart. Not too bad. I added some egg to my salad – along with some avocado and cheese. I would have added chicken, too, but we didn't have any, but, I digress..
Stay tuned for the possibly more exciting (but no promises) weeks 3 through 52. I'll use the hashtag #52new2011 if you want to join in on Twitter. And of course, I'll blog my adventures – as non-thrilling as they may be – here at What Did She Say under "52 new in 2011".
You can also join and and play along with my 26 books in 2011 goal. You can search the "26 in 2011" category on this blog. The conversation on Twitter using the hashtag #26in2011