It's not just an alliteration (a sucky alliteration, at that); there is a connection between these three seemingly unrelated humans.
It all started back in the mid-80s. Brian Mulroney was Canada's Prime Minister. Our little town's airport had recently had some updates and been snazzed up or something noteworthy. Brian Mulroney was coming to town for a very exciting event. Ok.. my brother, Jeremy, and I were not excited, but my mom sure was.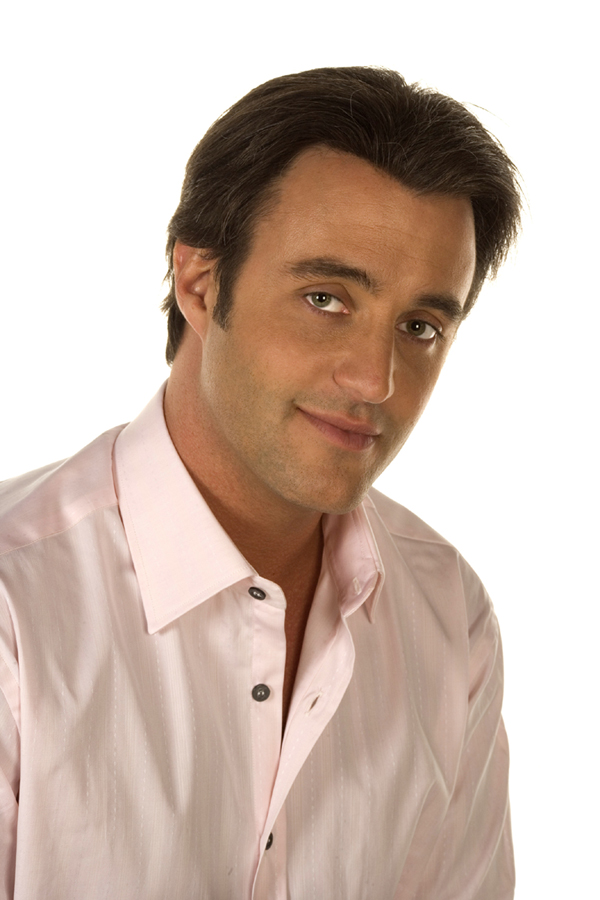 This was Goderich.  A town of 7,500 people (now up to 8,000 thank you very much. We even have a Wal-Mart.) My mom trucked her brood to the airport for this ceremony. Mr Mulroney had done the same thing. He brought his whole fan-damily. There was his wife, Mila, and his kids – including little Ben. You may now Ben Mulroney now from Canadian Idol and eTalk on CTV. Ben is the same age as Jeremy – only separated by four and a half months.
My mom let Jeremy bring "He Followed Me Home!" – one of Jeremy's many, many Family Circus books, authored by Bil Keane – to keep Jeremy occupied.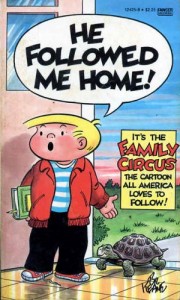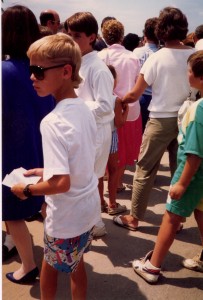 You can tell we're in Canada by how lax security is.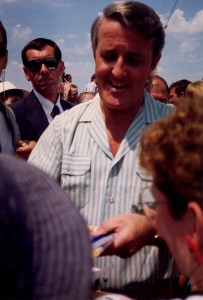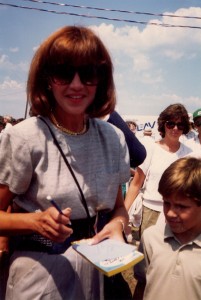 The Mulroneys were all just mingling about in the crowd. I'm pretty sure getting autographs from the whole Mulroney clan was an afterthought, since the signatures are on a torn piece of card stock. My mom used Jeremy's Family Circus book so the Mulroneys would have something more stable to give their autographs on.
I guess my mom thought little Ben looked pretty bored, so she gave my brother's book to him. I think he was a bit weirded out by the strange lady, but he looked relieved he had something to look at while his daddy made nice with the little people.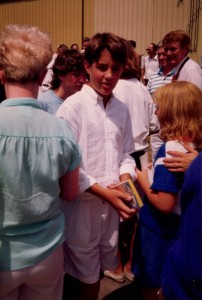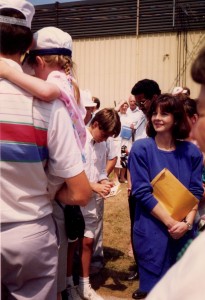 My mom promised my brother she would get him a replacement book.
Fast forward about 25 years – give or take. Still no book. My mom was given a memory book for her 60th birthday and 40th wedding anniversary. The story my brother recounted was this one, with a little jab about never seeing a replacement copy of "He Followed Me Home!"
My mom came up with the idea of trying to find a copy of this book. I took it one step further and thought I'd see if Ben still had THE book. I emailed him at CTV (where he works). I recounted the story and included the pictures of the day – so as not to seem too crazy, and to show him this really did happen. I received a reply from his assistant stating he didn't have the book anymore. Not surprised. Even if he did have the book, or think it might be at his parents' place, would he really want to go to the trouble of finding it? Not very likely.
Off to the interwebs! I found a used copy and ordered it. A few weeks later I had a copy of the book in hand. I contacted Ben's assistant again to see if he would be open to signing the book. She replied back that he would. Just send the book to his workplace and he would sign it.
Again, being me, I took it one step further. I took the book to the CTV building in Toronto. Plus, I didn't want to let go of the book and then have to bug Ben to have it sent back if it wasn't done quickly. I may be a bit of a control freak.
Anyway, I now had the book in hand. My parents thought they wanted to wait until Christmas, so I held onto the book. For months. Then I forgot to bring it at Christmas. Classic.
I wrapped it up when I got home from our family Christmas and made a trip back to Goderich for New Year's. The pictures below show why it was worth it to not only track down a copy of the book, but get Ben to sign it. Here is my brother's reaction to his very special gift. It's only a couple decades late.